Calls were made for more action and less talk when a ministerial delegation met with the Region Six Chairman David Armogan and President of the Humanitarian Mission of the New Jersey Arya Samaj Suresh Sugrim on combating social ills in the region.
Minister of Public Health Dr. George Norton, Minister of Social Protection Volda Lawrence and Junior Social Protection Minister Keith Scott visited the region on Thursday after an invite from Sugrim to engage regional officials and members of non-governmental organisations (NGOs) and formulate solutions for the ills plaguing the region.
Among the issues discussed was suicide, which Sugrim said is everybody's business. During his presentation to those gathered for the meeting in the boardroom of the Regional Democratic Council building, he called for an end to all of the "talk shops" and emphasised that it is time for "action."
Sugrim stressed that child labour in the region also needs to be addressed.
In regards to child labour in the region, Lawrence noted that it has been discussed at the ministry level. "We noticed it is not something in Region Six, it is across our country and persons seems to forget that we have signed on to several conventions," she said, while noting that a consultant was in the region about two months ago carrying out a survey. "The report was submitted to ILO [International Labour Organisation] and now we are waiting to see how that is going to fit in to the country work programme, which will be launched on September 21," she added.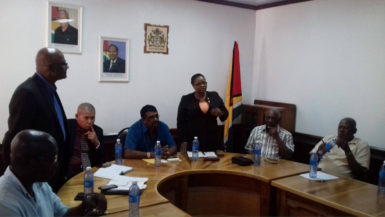 Lawrence also addressed teenage pregnancy and she explained that her ministry is always willing to work with NGOs. She stated that special attention is being paid to three areas, including New Amsterdam.
"A study for New Amsterdam should begin at the end of this month," she further noted. "It's already on the table and we are already taking action," she added.
However, Armogan stressed that there is a gap between the issues being discussed at meetings and the action taken. "Therein lies the problem. We have been having many sessions like this, but what are the concrete actions taken after these one off activities?" he asked.
He stated that there are a number of organisations in the region looking at the same problems. He noted that it is time for the organisations to stop competing and come together to develop solutions. "I would like to suggest that instead of rambling, we set up a task force in the region dealing with specific issues," he said, while noting that it could be comprised of representatives from different organisations as well as the ministry and it could serve to coordinate the activities carried out in the region. "We can look and brainstorm and come up with possible solutions and give some ideas to her ministry so that it can be rolled out and implemented," Armogan said, while stressing that action is what is necessary.
He also suggested setting up a committee to look at the root causes of social ills. "We need this country to set up a body that will look at how to restore and bring family together again, we need to look at the promotion of the family life," Armogan said. He noted that many years ago citizens were living in poverty but the country did not have as many social ills as it does now. "We never had all the suicide, or the smoking.
Why is it that even in poverty we didn't get all this problem?" he questioned. "It means there is a breakdown in the family life," he suggested, while adding that region needs to come up with strategies to encourage families to stay together as well.
Around the Web