A  West Ruimveldt taxi driver was gunned down around 8.30 pm  yesterday in Albouystown and succumbed while receiving  medical attention at the Georgetown Public Hospital.
The dead man, Oswald 'Junior' Rambarran, aged 42, resided in the West Ruimveldt Housing Scheme, Georgetown.
An eyewitness who was with Rambarran when he was killed, related to Stabroek News the events leading up to the shooting which occurred on King Edward Street.
"We de just come back  from buying food and he was coming out of his side of the car when  I look up and see a motorbike with two man pon it pull up at de corner deh (Sussex and King Edward streets). De man at the back jump off and come running and start firing shots …he fire like five shots and then run back in de bike direction."
"Me aint see when Junior drop or wait fuh see wuh direction they ride off in. I run in de yard under de house. Is when I come out back, he deh pon de ground deh bleeding from this side of he face," he added, pointing to his left temple.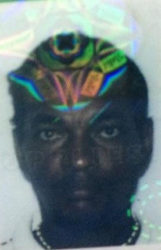 The taxi driver's friends assisted in getting him back into his car and they drove to the GPHC.
He said at the GPHC the man received prompt attention from doctors but they  left after the man was admitted because two others were assisting the police with investigations and they wanted to ensure all was well at their house.
The friends believe that the gunman knew Rambarran's movements and planned the attack. "He coulda shoot we. He had a proper view to kill anyone a we but like he setting fuh he," the friend said.
Police investigators also questioned persons living in King Edward Street.
Speaking to this newspaper at the hospital, Rambarran's reputed wife, Dolly Yarde said that she understands that he went to drop off some food at King Edward Street when a man rode up on a motorcycle and discharged several rounds.
The man's daughter injected that a crowd was on the street and after the gunman opened fire "everyone scattered."
Yarde explained that when she arrived at the hospital she was told he had to do a CT scan.  The woman said she did not have the money to pay immediately and went outside to "round up" the money.
However, when she returned with the money, a doctor took her and her daughter inside and said that Rambarran had succumbed to his injury.
The dead man has a police criminal record dating back to 2008.
Back in June of 2008, Rambarran was shot by the police following a chase after ranks of a police mobile patrol observed him and a male accomplice trying to force a man into the trunk of a motorcar.
As the police approached, the accomplice fled and Rambarran sped away in his car.  A chase ensued and Rambarran was shot as a result.
He was taken to the Georgetown Public Hospital but escaped custody while awaiting medical attention. This saw him being remanded on charges of escaping while in police custody and assault, as the prosecution convinced Magistrate Melissa Robertson that he was a flight risk.
Police sources told Stabroek News that from preliminary investigations it seems that Rambarran was shot based on "old grievances" and they are working on that theory.
Around the Web