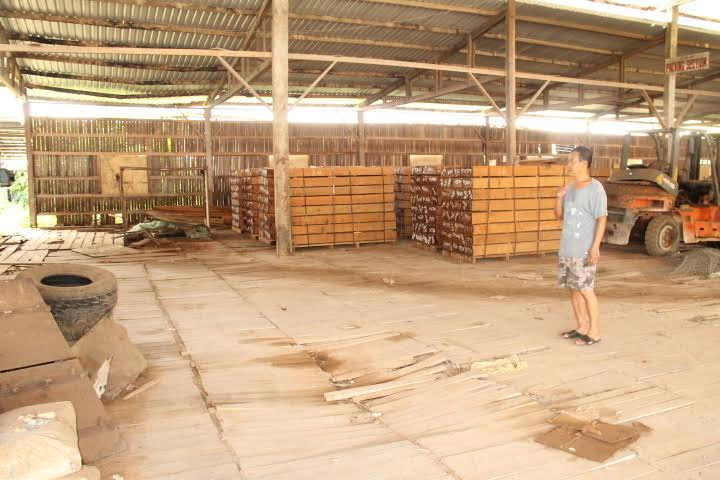 Following seizures of property during Guyana Revenue Authority (GRA) raids on its operations at Providence and Coomacka, the Chief Executive Officer of Baishalin yesterday appealed to government and the people to show patience and give the Chinese logging company at least three years to deliver on its commitments to value-added output and job creation.
"We need three more years. Say, up to 2019. We would appreciate if the Guyanese people and government show patience with us. They will see the returns on their investment," Chief Executive Officer Hungbo Chu told Stabroek News in an interview at the company's Region 10 operation yesterday, while promising to make good on all their commitments and giving access to at least 500 local jobs by the end of 2019.
"Our financing in China depends on the investment conditions here in Guyana and if they feel that they cannot be guaranteed those conditions, then we cannot move forward…the way the GRA acted yesterday, by just seizing our machinery and even personal property of staff and even the car of a friend who was visiting, that is not a good sign for our investors," Chu added.
Company officials say that GRA personnel swarmed the operations at Providence and Coomacka last Friday and Sunday, respectively, and removed vehicles, machinery and equipment and in the process also took away items acquired separately and allegedly stole the personnel effects of staff.
"About 25 men with big guns, about five trucks and their own machine, they came and said they are the GRA. My worker, he got scared and ran to call me, saying that he thinks we are being robbed but the men… shouting is GRA and he wants me to call the police to find out if it is true," an employee, Eddie Wang, told Stabroek News.
"They took away his phone and up to today have not given it back. They went into his room and pulled out a shotgun he has, without asking for the licence and started saying he has illegal firearm and ammunition. But that is not it. While he was outside they stole  his laptop, some other things and imagine two packs of Pall Mall cigarettes and his cage with two parrots, then doubting that no one took anything," he added.
Some of the articles were returned when one of the Baishanlin staffers got a peek of an item in the vehicle of a subcontracted GRA unit and insisted on it being searched.
To complicate their plight, company officials say they called and visited the police for assistance in ensuring that the persons who claimed to be GRA employees were legitimate and to report the subsequent theft but they were told by the lawmen that they were instructed by "higher authorities" to not interfere in the exercise.
As a result, Baishanlin's management is requesting an audience with those responsible at the GRA for an explanation of the seizures and how the situation can be resolved.
They are also asking the Commissioner of Police to intervene as it pertains to the alleged theft of their workers' personal belongings by a person sub contracted by the GRA enforcement unit.
'Scared'
Through an interpreter, Chu, who along with his father Wenze Chu, owns the controversial company, sat down with this newspaper to describe the challenges faced and the company's plans.
Baishanlin, said to control some 1.3m hectares of local forests, established a presence here in 2006 and has been accused of making big promises to add value to forestry but failing to do so. Instead, it kept on gathering forests and increasing the export of logs all the while gaining huge fiscal concessions under the former PPP/C government.
Minister of Natural Resources Raphael Trotman had told Stabroek News that he was waiting to be advised by the Board of the Guyana Forestry Commission (GFC) on the way forward for Baishanlin.
But last week GFC signaled the yanking of Baishanlin's forest concessions, saying that its decision to repossess came after the company failed to deliver on agreed steps to introduce investors to the Commission and having been given time to prove that it had an acceptable plan to clear an approximately $80M debt owed to the commission.
Trotman, has said too that government has to make a decision based on Guyana's best interest rather than one "based just on a narrow view of getting at the company…."
He said if the company is interested in investing in the country then the rules would be laid out: respect our laws, respect the people, respect the contract that you sign and "if we have commitment that these can be honoured then we are prepared to entertain them."
Although the government had said that the China-owned Longjiang had acquired 55% of Baishanlin and would be taking over the company's operations here, new investors have been a no show.
Chu believes that Longjiang and other interested investors are scared to bring "big bucks" here as the economic and investment environment seems fickle. "They won't come because mainly they are scared. We had an agreement reached and they made it clear that they will come to invest in Guyana only if they feel safe about their investment and signals do not show high risk…there has been many negative and malicious reports about us in the press and our loan was stopped and our investors are observing and all the signals for us now show high risk," the CEO asserted.
He informed that while much of the "negative press" focused on the company's failed attempts at delivering on promised value-added production here, persons are not privy to the fact that its financiers, China Development Bank, would not refinance its loans to commence Phase Two of its project, which includes the wood processing plant, because of its press image.
"We took the money to come here from China Development Bank and signed a contract with government for a project that has phases. Phase one we would set up here, export logs, make back some of the money and borrow some more for Phase Two to keep it going. You can check with the GFC records and see the export log and compare with our investment and far beyond that. Phase Two is where the plant and that would come in but before we could finish Phase One, all this reportage 'Baishanlin did this, Baishanlin, Baishanlin," Chu posited.
"We have invested over US$100M…in 2011, we said we got leased land from Guyana government to do the wood processing by 2014 and see what happened, we could not because our loan got cancelled. There is our agreement from 2015 that goes to 2018 but we need assurances of reduced risk and if we get assurances, we need three more years and you will see," he added.
'Cultural differences'
Chu said the company might have stayed silent and never made its challenges public for too long.
Asked why in the 10 years the company has been here it never came out to dispel the mounting allegations against it, he cited culture.
"For us, as foreigners, we came and didn't understand the culture. We still don't know how to understand the disconnect between the agencies and government and we understand the part each has to play. We have made many contributions to the Guyanese people, millions and millions. We give to charity, we give to sports we give to schools and communities etcetera but we are not a culture to go boast about what we do. We believe that if you give, you don't have to go and boast and take a picture and say 'I gave this or that.' Maybe that was the error here with our culture," Chu explained.
"Guyanese have been warm to us and we love their hospitality. Through all of this, we never think about shutting down the company totally. My father, and you have to understand our culture and how we view our dreams, he has said to me that he is determined to build a wood processing plant here to show what all the types of wood here can be used. He loves Guyana and believes that he has a dream role here. People say we rape the resources but we have been showing locals how to explore this market. We have their interest too we only want what is best for Guyana," he added.
During 2012 to 2015, the PPP/C government granted Baishanlin concessions amounting to $1.8 billion despite its failure to fulfill obligations under its investment agreements.
Forensic auditor Anand Goolsarran, who made the finding following an audit commissioned by the APNU+AFC government, recommended that the Government of Guyana consider terminating the investment agreements with the company and recover the value of the fiscal concessions granted to it.
Many of the items for which tax waivers were granted were either unrelated to, or significantly more than the requirements for the company's project, the report on the forensic audit and review of the operations of the Guyana Forestry Commission said.
Following the change in government last year, the APNU+AFC administration had come under severe pressure to act against Baishanlin for not delivering on value-added promises and over the manner in which it expanded its forest acreage.
Around the Web