Former Member of Parliament and Regional Executive Officer (REO) of Region Six,  Dr. Veerasammy Ramayya has quit the Alliance for Change (AFC) saying that "he got tired" of the way problems reported to senior government officials were handled.
This is the second time the politician is resigning from the party. He had done so initially in August 2015 when he said Berbicians were not adequately represented in the coalition government that the AFC was a part of. He was subsequently offered the post of REO of Region Six (East Berbice/Corentyne) and accepted it. Ramayya has resigned as REO of the region effective September 15, 2016.
In a telephone interview with Stabroek News today, Ramayya confirmed the resignation from the AFC, explaining that it is with immediate effect.  He submitted his resignation today to the Party's General Secretary, David Patterson.
The resignation will be seen as a blow to the AFC as Ramayya had been a key member for years and had a following in the area through his weekly television programme "Issues of the People" and community activities.
Ramayya told Stabroek News his future plans are unknown but noted that he will be returning to his television programme. The television programme which was on pause for approximately a year attracts a large number of viewers as it addresses the problems faced by Berbicians.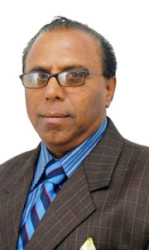 According to Ramayya, corruption is still prevalent within the regional system and he tried to make changes but was greeted with a "new type of bullyism." He explained that while he and the Regional Chairman David Armogan worked to move the region forward, supporters of the coalition and the opposition were not co-operative. "They are not working and you can't tell them what to do", he said referring to members of the coalition.
Ramayya went on to say that as REO, when he did not approve works carried out by contractors he was criticised for being incompetent. However, he said similar challenges were faced in the tendering process.
He further stated that the people of Berbice are not being represented and felt the APNU+AFC government has neglected the promises made to Berbicians while on the campaign trail.
He also stated that his works done in Berbice do not seem to be appreciated as his complaints made to party executives seem to have "fallen on deaf ears."
He added that he wrote several letters to members of his party and copied them to President David Granger but never got a response.
According to Ramayya he is still to be reimbursed for his expenses during the 2015 election campaign.
Ramayya started his political career in the1960s.
Around the Web