Guyanese in the coming months should be able to access free WiFi in all public buildings, according to an announcement by President David Granger during the opening ceremony of Heritage celebrations at Mainstay/Whyaka, Region Two on Saturday.
In his remarks, the Head of State urged citizens to make a choice between progress and prejudice and integration and segregation. He contended that it is only then citizens would be able to reap the benefits  the country has to offer.
He identified education as the only means through which the transformation that the country badly needs, can be fully realized.
He further noted that while Guyana's Indigenous Peoples have made significant strides over the last 50 years, there is still much more to be done to remove the existing gaps and eradicate inequality in hinterland communities.
"We have an obligation to our children. If the children are to be productive citizens, we their parents and grandparents, have to make sure that we plan for their education, plan for their upbringing, plan for their welfare… It is essential that in everything we do, all of the plans we make, we ensure that children get to school and get the best education. It is a travesty that will lead to catastrophe if our children are not kept in school," he said.
"I have committed myself, that in the months to come, every person going into a public building, whether that building be a school or a hospital, an airport that there will be WiFi," Granger said, before announcing that the initiative will begin at the Cyril Potter College of Education at Turkeyen and will move to include schools across the country.
Commenting on job creation and enterprise, the Head of State reiterated that, "we want to see more entrepreneurs in Guyana…people who work to buy things will always be at a disadvantage to those who make things and sell them."
It was at that point that he implored residents of Mainstay/Whyaka to strive for academic excellence so as to ensure that the community produces people who have the capacity to control their lives and livelihood.
He also commended the Ministry of Indigenous Peoples' Affairs and the Ministry of Communities for kick-starting the entrepreneurship drive with the execution of the Hinterland Employment Youth Service (HEYS) and the Sustainable Livelihood Entrepreneur-ship Development (SLED) programme.
However, he noted that even as his government works to establish a more enabling environment for entrepreneurs, residents should consider utilizing produce from their farms as investments in value-added production.
Alluding to the theme of this year's Indigenous Heritage Month celebrations "Our Culture, Earth's Future-Saving the Environment, Live the Indigenous Way", the President told residents and visitors  that his administration will be working with all relevant stakeholders to revise the Amerindian Act, which will now be called the Indigenous Peoples' Act. He also restated that the Government is committed to the establishment of a lands commission.
Granger also asked for the opportunities that exist in sustainable energy production to be realized.
"Power is all around us; the wind can generate power, the water can generate power. So this and future years, let us make use of the sources of generating electrical power. We have not done enough and many of the regions occupied by the Indigenous peoples suffer first and suffer the most because these fossil fuels are much more expensive," he said.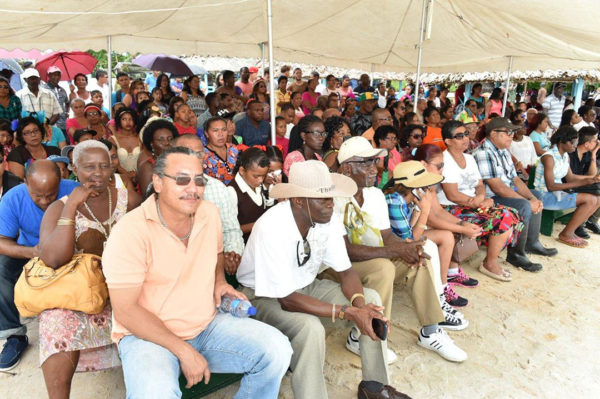 Meanwhile, Minister of Indigenous Peoples' Affairs, Sydney Allicock  in his address urged residents to widen their horizons in terms of their economic activities.
Alluding to the fact that Mainstay was once famous for its organic pineapple production, he called upon the village Toshao and Chairman of the National Toshaos' Council (NTC), Joel Fredericks to resume negotiations with the Amazon Caribbean Guy-ana Limited (AMCAR).
With the presence of an underutilized pineapple processing factory in the village, Allicock said that a new agreement with AMCAR will be mutually beneficial for both the villagers as well as the investors since Mainstay/Whyaka has vast agricultural potential.
"This project can be resuscitated and can become the guaranteed market for pineapples from Mainstay/Whyaka and other villages such as Capoey and Tapacuma… I expect that in the not too distant future, Ms. Marsha Williams will be appointed Community Develop-ment Officer for this area because we need that sort of support to be able to get the work done," the Minister said.
"Indigenous Peoples of Guyana have a strategic place in society.
We have the proud record of preserving the environment for centuries.
We have the proud record of being people, who historically have been self-sufficient… We have a record of being capable in doing things for ourselves and in being able to be qualified in various disciplines once we are given the opportunity. The time is now and the Government is ready to give you that support," he said.
Toshao Fredericks in his address applauded the President and his Ministerial team for participating in the heritage celebration in his community.
Also present at the celebrations were First Lady, Sandra Granger; Minister within the Ministry of Indigenous People's Affairs, Valerie Garrido-Lowe; Minister within the Ministry of Communities, Dawn Hastings-Williams and Regional Chairman Region Two, Devanand Ramdatt.
Later in the evening, a bonfire was lit by the lakeside as part of village traditions and patrons got a chance to witness the Miss Mainstay Mini-pageant.
Around the Web