With International Coastal Cleanup (ICC) day to be observed on September 17, the Caribbean Youth Environment Network (CYEN)–Guyana is calling on Guyanese to join in marine pollution prevention efforts worldwide by participating in this year's activity.
As the local organising partner of the event on behalf of Ocean Conservancy, CYEN- Guyana has collaborated with the Environmental Protection Agency (EPA) to schedule the cleanup.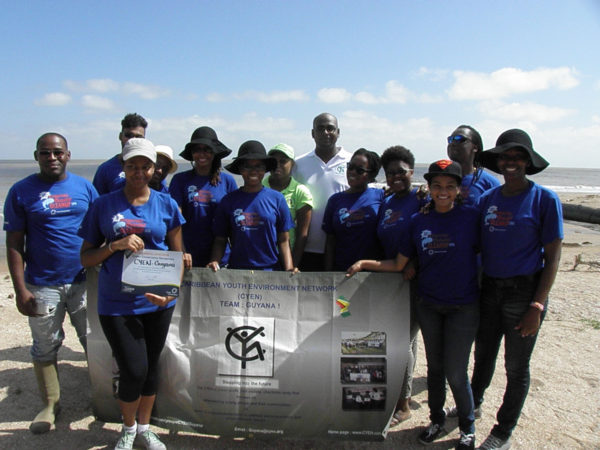 According to Leanna Kalicharan, assistant coordinator of this year's event and member of CYEN-Guyana, the objective of the ICC is to engage as many persons as possible in the activity, which is geared at preventing marine debris pollution from the world's waterways.
Additionally, it facilitates collection of data that is used to create a snapshot of the global ocean trash problem to influence long-term solutions.
Volunteers, she said, are asked to document the types of trash collected on Ocean Conservancy Data Cards, which would be analysed.
The information would then be used to compile a report which would be sent to the Ocean Conservancy to be incorporated in a global report.
Reflecting on participation in previous years, Country Coordinator of the event Elon McCurdy said, "The support has been overwhelming; it was good to see children participating in the activities and see their eagerness to learn more about marine litter and how it affects marine life."
McCurdy added, "The information gathered by volunteers can also be used to guide drafting of national policies on marine litter,"
As with the previous years, this year's event will commence at 6am and will target the Georgetown Seawalls and specifically the area between the Kingston bandstand and Camp Road.
The following weekend, the group will be travelling to Berbice, where it will be hosting the second leg of the event at No. 63 Beach, Berbice.
Kalicharan is inviting all interested parties and she wished to note that while there is no registration process for individuals who want to participate in activities, groups will be required to register.
This, she said, can be done at http://bit.ly/1MOZCPb while more information on the activity can be obtained by visiting the ICC Facebook page: https://www.facebook.com/ICCGuyana for updates, or email: cyen.gy.chapter@gmail.com.
Around the Web