After spending her weekend listening to the complaints from vendors living in her constituency, city councillor Andrea Marks staged a silent protest during yesterday's statutory council meeting to bring attention to their plight.
Seconds after Mayor Patricia Chase-Green called the statutory meeting to order, Marks began to display two placards, which stated, "Royston King must go," and "Has Royston King taken up from where Sooba left off."
"I'm tired of making recommendations at this meeting and at Markets Committee meeting and seeing them still doing the same thing over and over," Marks, who is a member of the Markets and Public Health Committee, told Stabroek News.
While Marks has earned her place at the horseshoe table as member of the APNU+AFC Proportional Represen-tational list and not as a constituency representative, she feels strongly that it is her duty to speak on behalf of the people of Constituency 6 (Cummings Lodge North, Central & South, Pattensen/Turkeyen South).
"Bright and early Saturday morning, I ain't even turn over properly and the people in my yard. These are single mothers who for 23 years under the PPP couldn't get jobs so they become vendors and now he [King] threatening their livelihood," a frustrated Marks said.
She maintains that she is not encouraging lawlessness and supports moves by the council to keep the market areas clean but she cannot support the way the Town Clerk is operating.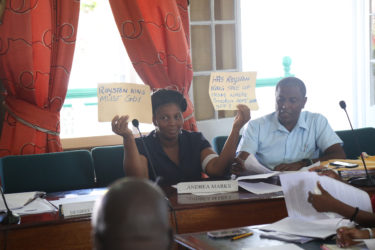 "He operating worse than (former Town Clerk Carol) Sooba. It's not about what he is doing; it's the way how he is doing it. I don't think the Town Clerk wake up that morning and decide we going and put these people out of business. If they are in violation, send out a notice. At least you could've given them a day's notice. Don't just jump up and take bread out of people mouth. Do it the right way. Don't hurt people. Do it the right way and you will get results," Marks explained.
Last Tuesday afternoon, Robb Street, Bourda vendors were up in arms after they turned up to erect their stalls and found barricades manned by members of the city constabulary, who informed them that they were not permitted to sell. The council and the vendors have since reached a compromise and they have returned to their location.
Meanwhile, Chase-Green responded to Marks' protest by declaring that anyone can exercise their democratic right of protest as long as they do not disrupt the meeting.
She later took aim at Marks and absent Deputy Mayor Sherod Duncan by saying that their calls for the Town Clerk to be removed are "irresponsible" as the Town Clerk is empowered by the Municipal and District Councils Act as well as the public health laws to make an administrative decision which is in the best interest of the people of Georgetown.
"The Town Clerk took an administrative decision. If he [King] finds any insanitary conditions, he has all rights to stop all transactions and have it corrected. In such a case, he doesn't have to consult with the council; he can inform us after. So, the irresponsible remarks from the Deputy Mayor and other that the Town Clerk must go were made because no one is reading 28:01. Read the laws and be guided by the laws. When we do not know what the law says, we find ourselves acting with our mind and out of sympathy. I have sympathy for the vendors but should we allow them to sell in unhealthy conditions?  If you want the Town Clerk to go, no one man can get up and say he must go and you just can't get up and say that the Town Clerk must go. You have to have reasons and you have to have legitimate reasons," Chase-Green told councillors.
She further explained that the vendors themselves had acknowledged that they were in violation of their agreement with council.
"These vendors had agreed to spend one day a month cleaning the area yet we have received a series of complaints from business people where vendors and refuse are blocking legitimate businesses to the extent where one business [Mike's Pharmacy] said they would have to close. Anyone who knows public health issues could only imagine what the mess was in front of these business!" the mayor added.
Around the Web