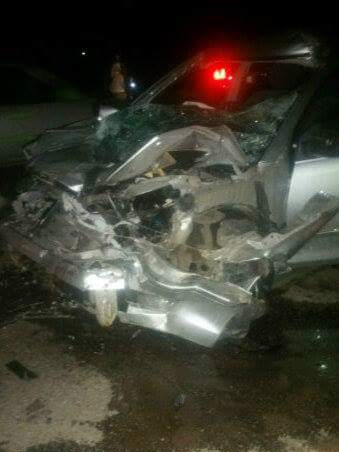 A father of eight died in a Soesdyke-Linden Highway accident on Sunday night after the vehicle he was travelling in collided with a truck.
The accident left Carl Dundas, 41, a porter, of Kuru Kuru, dead and Nathan Heyligar, 26, also of Kuru Kuru, hospitalised.
Dundas' wife, Rona 35, was also injured in the accident but has been discharged from the hospital.
Stabroek News was told that Dundas suffered severe head injuries, despite his airbag deploying. He was not wearing a seatbelt at the time of the accident.
Stabroek News was told that the three, along with a friend of Heyligar, Alana Barker, who was unhurt, were making their way home from Yarrowkabra on the highway after participating in Indigenous Heritage month celebrations.
According to Rona, as they were approaching the truck, she heard her husband telling Heyligar, who was the driver of the vehicle, "watch the truck!"  The wife said moments later they collided with the truck. She explained that she regained consciousness while being treated at the hospital.
She recalled that prior to the accident, Heyligar was attempting to overtake a vehicle but desisted from the action after another vehicle was approaching.
The group was rescued by a passing truck driver, who rushed them to the Diamond Diagnostic Centre, where they were treated before being transferred to the Georgetown Public Hospital.
However, Heyligar, from his hospital bed, yesterday told this newspaper that he did not see the truck that was in front of him because it had no tail lights. He said when he was alerted it was too late due to the speed at which he was driving. "On the highway, the speed limit is 100 and by the time Carl tell me about the truck, I couldn't get to stop. The truck was right in front of us," said Heyligar, who suffered a broken foot and lacerations about his body.  He added that if he were driving at a faster rate, other lives could have been lost.
The hospitalised man also refuted reports that the accident was due to him being intoxicated.
Heyligar disclosed that they did drink while they were at the Heritage Month celebration but he was not drunk and was able to safely take the group home. Heyligar and Dundas worked together on a dredge in the interior.
Around the Web