A Middle Road man, charged with armed robbery and escaping lawful custody, blamed his predicament on a family dispute over land when he appeared before a city court yesterday.
Theodore King, 41, of 222 Sideline Dam, Middle Road, placed blame on his sister, whom he accused of having him arrested so she could get her hands on land left to him by their now deceased mother.
King, who indicated to the court that he was recently released from prison, affirmed his innocence to the Chief Magistrate Ann McLennan. "I is a changed man, I turn a Muslim now, your worship. I change," he said, even after he pleaded "guilty with explanation" to the charges of armed robbery and escaping from lawful custody.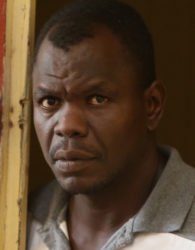 It was alleged that King, on August 13, at Regent Street, being armed with a knife, robbed Angelica Seeraj of two gold bands, worth $100,000. The second charge stated that on August 27, at the Brickdam Police Station, while being in lawful custody for the charge of armed robbery, he escaped from custody.
According to the prosecution's facts, on August 13, King attacked and robbed Seeraj at Regent Street and then escaped. On August 27, he was pointed out as the person who had committed the robbery by a public-spirited citizen, who witnessed the encounter. While in custody, King allegedly escaped, but was again detained that very day.
King's explanation to the court regarding the charge of escaping custody was that his children had been locked up in their home at the time and so he left the police station.
He said he was arrested a week later and charged.
The man also disputed how he could be held for a crime simply because someone said he did it, with no identification parade being conducted.
Although he initially pleaded guilty to the charges, not guilty pleas were entered on his behalf by the Chief Magistrate following his account of the events.
The matter has been adjourned to October 6 and King was placed on $50,000 bail and a bond to be on good behaviour until the end of his trial.
Around the Web