A two-day search for 74-year-old Hedley Williams, who went missing on Sunday, came to a tragic end yesterday when his lifeless body was discovered in a clump of bushes, a short distance away from the Cheddi Jagan International Airport (CJIA), Timehri, where he was last seen.
Chandra Davie, the dead man's wife, who returned to Guyana on the same day he went missing, explained that Williams had accompanied other relatives to pick her up at the airport.
She added that while Williams, a diabetic patient, stayed behind, the other relatives came to meet her at the terminal.  However, when they returned to their bus, the pensioner was nowhere to be found.
It was then a search was undertaken for the man. It continued until yesterday when he was found dead.
"Since Sunday, them children were out searching for him at 3am in the morning. It wasn't until police called and told them they got information on him that they found him," the woman lamented. Meanwhile, the man's son told Stabroek News that the footage taken from the airport security camera showed Williams walking to the bus park, which was the last time he was seen.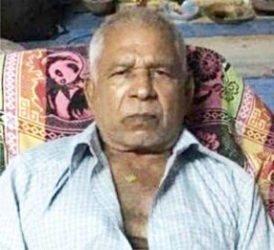 When asked about the subsequent discovery of his father's body, the man explained that he, along with his siblings and other relatives combed the area around the airport looking for the man.
After another futile search yesterday, they decided to return home.
He noted that it was shortly after they started their journey home that they received a phone call from the police, who said they were in possession of information regarding the missing man. In returning to the area, the man noted that they joined the police ranks in a search, which led them to a semi-isolated area a short distance away from the airport's compound. It was there, he said, that they discovered William's lifeless body.
He further said that he observed the presence of several marks on different areas of his father's body, including his neck and side.
When asked if he believed foul play could have contributed to his father's demise, the man did not rule it out as a possibility.
However, he stated that the cause of death would not be determined until a post-mortem examination is done.
When contacted for a comment on investigations into the matter, acting Commander of 'A' Division Marlon Chapman also said that the police will have to await the results of the post-mortem examination before moving forward.
Williams, a resident of 74 Third Street, Montrose, East Coast Demerara, would have celebrated his 75th birthday on September 17. Williams is survived by his wife of 51 years and six children.
Around the Web