Twenty-eight boat operators from Region Nine have been awarded a Certificate of Competency to operate as boat Captains under the Licensing of Ships Regulation 2001, and are now appropriately equipped to operate safely on the rivers within the region, a release from the Maritime Administration Department (MARAD) said on Friday.
MARAD collaborated with the Guyana Tourism Authority (GTA) and Conservation International –Guyana to hold a training programme for the boat operators at Caiman House in Yupukari Village, Region Nine on August 10, 2016.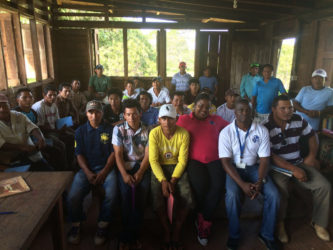 The release said that participants were drawn from the villages of Yupukari, Massara and  Toka, the Karanambu Eco-lodge, and the Protected Areas Commission in the Central Rupununi.
The training is one of the initiatives undertaken by MARAD with its partners to expand the outreach where maritime services are needed, but very difficult to access financially and logistically.
The release added that the GTA continues to lend support to MARAD as its standard operating procedure is to improve the safety and professional standard of river tours offered by various operators and also to ensure operators are licensed to operate on the rivers.
Training in this aspect was conducted previously in July 2014, in Annai where twenty-one boat operators benefitted similarly.
Around the Web