The Women and Gender Equality Commission in partnership with the Ministry of Education's Department of Culture, Youth and Sport has launched a jubilee exhibition to honour 56 women for their contributions to their respective communities and Guyana as a whole.
The exhibition was officially opened last Friday at the Arthur Chung Conference Centre, Liliendaal where it will be held for the next two weeks.
Minister within the Ministry of Education Nicolette Henry, during her brief remarks at the opening, said while gender equality is a human right, millions of women around the world continue to experience discrimination, both economic and social, resulting in fewer and poorer life choices and rendering them vulnerable to social ills.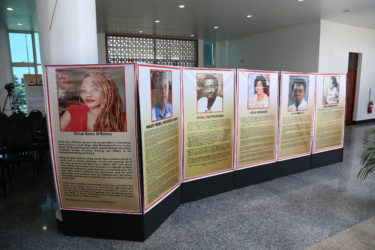 "Promoting an environment where the rights of women are recognised as human rights and gender equality is upheld is a vision that can become a reality providing that as women we rally together so that our voices are heard because in unity there is strength," Henry said.
Minister of Education Dr. Rupert Roopnaraine said that the commission has provided the public with a reminder that women are visible in the development of the country. "Women in Guyana have always been important to the politics of change, whether through entering into the electoral races for position, positions in the government bodies of their parties, unions, local authorities, the city council or the government itself and we celebrate their fight and accomplishments on occasions such as this," he further noted.
He said too that it is equally, if not more important, to recognise the thousands of women who throughout Guyana's history have laid the foundation of our society. He said that these women did not have the benefit of public visibility but laboured tirelessly nevertheless.
Also speaking at the launch was Indra Chandarpal, Chairperson of the Women and Gender Equality Commission, who is among those featured in the exhibition and who stated that to date the Commission has been able to work in a cohesive and respectful way to undertake its annual work plan.
Among the other honourees are Margery Kirkpatrick,  Aliann Pompey, Nicolette Fernandes, Lynette Dolphin, Chandroutie Ramnarain, Shreemattie Vivekanand, Urmia Daniels-Johnson, Diane McTurk, Janet Jagan, Nicole Cole, Oviah Setra Oselmo and Desiree Bernard.
Around the Web