The Queen's College of Guyana Alumni Association NY Inc (QCAANY) has elected Karen Wharton as its President, making her the first female to lead a Queen's College alumni association.
According to a press release from QCAANY, this comes 41 years after the school first opened its door to girls and during the year in which QCAANY is celebrating its 25th anniversary.
Also elected to the 2016-2017 Executive Committee were Michael Jones (Vice President), Gordon Wilson (Secretary), Terrence Campbell (Treasurer), Saran Nurse (Organising Secretary) and Terrence Blackman (Assistant Secretary/Treasurer), the release stated.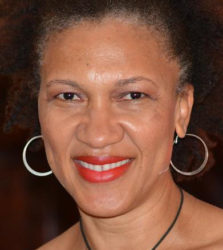 According to the release, Wharton credited outgoing president, John Campbell, with shepherding the Association during a time of transition. She pledged continuity for the initiatives that are underway while acknowledging the significant symbolism of her election. Among her immediate goals is the expansion of public-private philanthropic partnerships in order to more efficiently and cost-effectively support Queen's College. She also plans to increase the engagement of QC alumni in the diaspora and assist recent QC graduates, living in the tri-state area, during their transition to North American life.
With regards to donations to the school, "Making investments that are supported by data is something that our Association believes in," the release quoted Wharton as saying.
To that end, she noted that the report on that first phase of a comprehensive needs assessment of QC undertaken by Dr Michelle Mickle Foster (QC Alumna) was completed. The report will be used to inform the Association's giving, the release added.
Wharton attended Queen's College from 1976-1981. She is a graduate of Boston University with a B.S. in Mechanical Engineering and of Pace University with a M.S. in Telecommunications.
Around the Web