Mario Figueira, the businessman who was charged last month with trafficking nine Brazilian women, yesterday faced additional charges that he had possession of eight of the women's identification cards.
It is alleged that Figueira, 34, of Lot 6 Bel Air Promenade, between August 18 and August 24, while acting as an employer to the Brazilians, knowingly possessed their identification cards. Figueira pleaded not guilty to the eight charges when they were read to him by Chief Magistrate Ann McLennan in a Georgetown court.
Police prosecutor Sophia Sardinha told the court that investigations into the matter were completed and that the nine Brazilians are in the custody of the Brazilian embassy.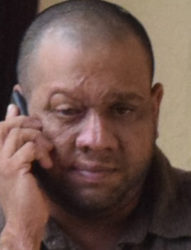 According to Figueira's attorney, K Juman-Yassin, the new charge against his client is linked to his human trafficking charge which is before Magistrate Leron Daly. He said that his client was since granted bail on those charges and has been attending hearings.
The Chief Magistrate subsequently granted Figueira $25,000 bail on each of the eight charges. As a result, his total bail amounted to $200,000. His matter was adjourned until today.
Figueira and another man, Joaquin Fillio, a Brazilian national, were previously charged with recruiting, transporting and harbouring nine women for the purpose of sexual exploitation. The men pleaded not guilty to all nine counts of the charge.
While Fillio was remanded to prison, Figueira was granted bail to the sum of $120,000 on each charge.
Around the Web