A miner was yesterday remanded to prison by a city magistrate after he was accused of murdering another man.
Adrian John appeared before Chief Magistrate Ann McLennan on the charge that on September 8, 2016, at Perseverance backdam, he murdered Merville Williams.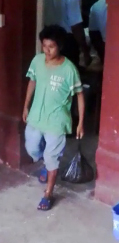 John, 19, was not required to plead to the charge.
No details about the murder were released by the prosecution, although it was noted that the case file is complete and 12 witnesses are expected to give evidence.
Chief Magistrate McLennan subsequently remanded John, and adjourned the matter to October 31, when it will be heard at the Matthews Ridge Magistrate's Court.
Around the Web