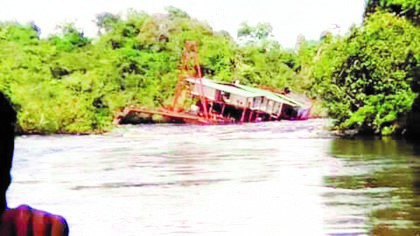 Minster within the Ministry of Public Infrastructure, Annette Ferguson has apologised for the inconvenience caused by the sunken dredge, to users of the Mazaruni channel, Region Seven, GINA said.
For weeks, residents have been complaining about the sunken dredge and the government's failure to have it moved.
Ferguson in an invited comment to GINA said she understands the plight of those affected and is apologising to them. The Minister urged residents, tourists, boat operators, miners and school children to continue to have patience as the Ministry works to bring relief shortly.
The Minister told GINA that engineers from the Maritime Administration Department (MARAD) took the initiative to cut the dredge into pieces to have it surface and that by the end of September the entire dredge should have surfaced.
The Minister added, "relief is underway for the affected riverine communities and I can assure the operators who ply their trade in the Mazaruni area, they will be relieved as we work to remove the dredge as soon as possible."
GINA said that the channel in which the partially submerged dredge is presently lodged is the only avenue for transportation to the upper and middle Mazaruni. 
The Ministry of Natural Resources this afternoon issued the following press release on the matter:
The Ministry of Natural Resources can confirm that between the responsible mining operator and the Maritime Administration Department (MARAD), there will be an intensified effort to remove the dredge 'Draga' from its location in the Mazaruni River.
The Ministry is mindful of the many complaints from the public and is committed to ensuring that this issue is addressed as soon as possible.
While there has been some degree of restriction in the river due to the salvage cables attached to the wreck, it is reported that some cargo and passenger boats have been able to pass the area without hindrance through a back channel.
Reports are that the water level of the Mazaruni River of late has caused some difficulty in the salvage efforts.
There is to be an emergency meeting on Monday September 19, 2016, convened between an advisory board of MARAD and the operator responsible for the sunken dredge, with a view to working out emergency modalities for the removal of the dredge.
Around the Web