President David Granger  yesterday welcomed Guyana's re-engagement with the European Investment Bank (EIB).
He was reported in a Ministry of the Presidency release yesterday as saying said that the agenda for Guyana's development over the next four years requires significant investment from foreign sources and as such Guyana welcomes the re-engagement with the EIB. Granger met with a team of officials from the EIB at his office.
The release said that the delegation, led by the Bank's Vice President, Pin van Ballekom will be engaging with government officials and private sector entities over the next two days.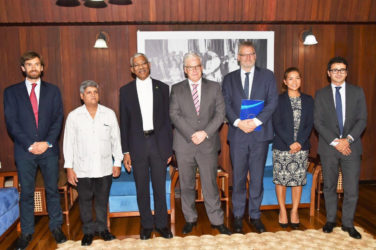 "We are very confident that the European Investment Bank is going to be an important vehicle to provide credit to enable the developments we need, to take place," Granger said.
With regard to the 'green' agenda, the President told the team that while there is an existing financial arrangement between Guyana and Norway, the country has tremendous eco-tourism and biodiversity potential. He said there are also rich prospects in the development of renewable energy sources such as hydropower, wind and solar.
The Bank's President said that based on the priority areas that  Granger outlined, he is convinced that the EIB can be of value to Guyana. "We are looking into the possibilities and if it's a good quality project and an interesting investment, then we will go ahead," he said.
The Bank's last transaction with Guyana, a micro-financing facility for small and medium-scale enterprises, was in the year 2000.
Around the Web