After being denied his request to use the washroom at the Bourda outpost lockups which caused him to mess himself, a teenager claimed frustration led to his escape from police custody.
Dexter Isaacs, 17, told Magistrate Judy Latchman on Tuesday that he had asked to use the washroom several times but the police officers waited until he 'messed up his skin' before a female officer, whom he pointed out in court, allowed him to use the washroom.
Whilst he was in the washroom, he saw an opening and made good his escape he stated.
The charge against the teen states that on August 26, whilst in the lawful custody of Lance Corporal Denise Roland at the Bourda Outpost Lockups, he escaped.
Isaacs pleaded guilty to the allegation.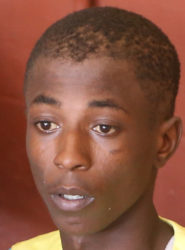 The teen was also charged with assaulting Kevin Bayne on August 24, at Water Street, to which he pleaded not guilty.
City Police Prosecutor Collin Douglas told the court that on August 24, around 4:50 pm the defendant was observed in a fight with another individual. He stated that the teen was later arrested and taken to the Bourda Outpost Lockups.
Whilst at the lockups the teen was taken to the washroom, from where he escaped through a window. He was re-arrested when he was spotted by a constable in the area.
The prosecution made no objection to bail.
Magistrate Latchman granted the defendant bail of $10,000 on the assault charge and requested that arrangements be made with the probation officer for him to join the Skills and Knowledge for Youth Employment programme.
Isaacs will return to court on October 5 before Magistrate Annette Singh.
Around the Web