Government yesterday formalised a deal through which the National Insurance Scheme (NIS) will recover $5.6B which it had lost in 2009 through reckless investing by the now defunct CLICO (Guyana) and taxpayers will have to foot the bill.
General Manager of the National Insurance Scheme Doreen Nelson thanked the government for assisting the NIS to recover its investment in CLICO through the signing of a debenture for an aggregated value of $5,641,431, 475. CLICO (Guyana) collapsed in 2009 after its parent company, CL Financial, had to be bailed out by the Trinidad government and its sister companies experienced grave financial problems.
This agreement signed by Finance Minister Winston Jordan will see the scheme recovering the sum over a 20-year period. It is in keeping with Parliamentary Resolution 82 of 2009, which had called on the then PPP/C government to take "all possible actions to secure the investments made in CLICO (Guyana) by the NIS on behalf of contributors and beneficiaries of the Scheme to prevent any consequential loss in benefits to them."
The parliamentary resolution had been supported by the PNCR and the AFC, which are members of the current governing coalition. The two parties had criticised the then PPP/C government over its handling of the CLICO (Guyana) collapse.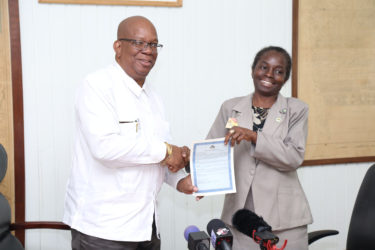 Nelson yesterday noted that the agreement is a timely intervention. The NIS has begun to suffer annual deficits for a number of reasons, including the loss of investment income from the $5.6.
"It is good to have this matter out of suspension and a decision made on a guarantee made some years ago. You are aware of where we are financially, this is a timely intervention and will be taken into account for our ninth actuarial meeting, which begins soon. On behalf of the board, management and pensioners and contributors thank you," she said.
CLICO's collapse followed its loss of $6.9 billion (US$34 million) in the liquidation of CLICO (Bahamas).  Those monies represented 53% of the local company's assets. The Bahamas subsidiary had invested the money from the Guyana company in Florida real estate which went bust.
At the time of CLICO's collapse, its liability to the NIS was $5,482,446,199.00 for thirteen Executive Flexible Premium Annuity (EFPA) Policies which matured over the period 2009 to 2012. Since then, the Camp Street CLICO Building has been transferred to the NIS at a value of $600 million, thereby reducing the reconciled amount to $4,882,446,199.00.
Having noted in his 2015 budget speech that the Scheme is in trouble and needs an urgent solution since more than 20% of its monies were ensnared in the CLICO debacle and not earning income, Jordan yesterday presented the NIS with twenty Non-negotiable Debentures, to be redeem-ed annually over a period of twenty years, at a fixed interest rate of 1.5 percent per annum. The first debenture redeemable in January, 2017 is worth $317,359,002.94.
The Finance Minister explained that the debentures represented government's attempts to as close as possible provide the Scheme with the sums it had invested in CLICO. He, however, said that it was a sad day for Guyanese taxpayers since they would be forced to bear the burden of the payments over the next 20 years.
"Imagine what those monies could have done in other areas be they wages or infrastructure programmes?" he asked.
Not in dispute
In a subsequent press release, the Ministry of Finance noted that the previous PPP/C government had committed $3.6 billion received from the Caricom Petroleum Stabilisation Fund to finance the pay-out to holders of investment annuity policies and other insurance liabilities not in dispute, subject to a maximum limit of $30 million per policyholder with additional funds needed to meet outstanding balances to policyholders being raised through the sale of the company's fixed and moveable assets and monies recovered from its debtors.
"To date, policyholders have been paid a total of $6,749,340,831. Approximately $5.9 billion remains due and outstanding to policyholders, i.e. policyholders with balances in excess of $30 million, government and related parties," the release said.
It was further explained that the company is in the process of paying policyholders classified as Organisations, Related Parties and the Guyana Forestry Commission (GFC) in excess of $185 million. Of that sum, the GFC will receive $78 million as part of a debt exceeding $239 million.
Governor of the Bank of Guyana Gobind Ganga, who is the liquidator of CLICO (Guyana), noted at yesterday's signing that steps are now being taken to sell off the remaining assets and recover monies owed to CLICO through the courts and other processes so that outstanding balances owed to policyholders could be paid.
CLICO Guyana had caused approximately $4B to be paid into an escrow account pending resolution of court proceedings against CL Financial. That account is also collecting payments from agencies that have not yet concluded their transactions, including for the sale of CRL's property at Houston, East Bank Demerara. CRL was another sister company of CLICO.
"We are hoping to have enough assets to pay all debts, we are hoping that by way of sale we will have something by 2020 to fully pay all holders with the exception NIS," he said, while explaining that the NIS might receive payments from out of court settlements.
The subsequent release explained that these settlements might result at least in part from "confidential out of court discussions with various entities, including the Deposit Insurance Corporation of Trinidad and Tobago with respect to securing at least half of the moneys owed by Bosai group of Companies to CLICO Investment Bank."
Jordan noted that any sums recovered on behalf of the Scheme will be added to the Consolidated Fund.
Additionally, policyholders are being encouraged to uplift the 2,881 unprocessed cheques valued $132,739,438 as at July 31, 2016.
Around the Web