A driver attached to the MMC security firm was shot dead by a colleague, who also wounded another co-worker during a confrontation outside the company's headquarters at Happy Acres, East Coast Demerara yesterday morning.
Dead is Herbert Verwayne, called "Bullet," 36, a father of four who lived at Lot 710 Block '8' Tuschen Housing Scheme, East Bank Essequibo, who police say was shot as a result of remarks that he and others were accused of making about the shooter's daughter.
Verwayne, who sustained gunshot wounds about his body including to his chest and neck, was pronounced dead on arrival at the Georgetown Public Hospital (GPH), while his wounded colleague, whose name was not released, sustained gunshot injuries to his left hand but was treated and discharged.
The suspect, Kevin Stephens, of Middle Road, La Penitence, Georgetown, has been arrested.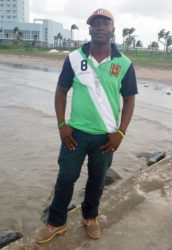 The Guyana Police Force, in a statement, said the shooting occurred around 8am yesterday. At the time, police reported, Verwayne was in the company of several other employees when the suspect, armed with a shotgun, accused them of making "ill remarks" about his daughter, and then fired at them.
Stabroek News was told that Verwayne reported for duty on Friday evening and had just clocked out before he met his demise yesterday morning.
He and his alleged assailant had an argument on Friday evening, when Stephens reported for duty and had to return home after the vehicle in which he was supposed to perform patrol duty on and which was driven by Verwayne was already filled.
Stabroek News was also told that Verwayne allegedly owed the suspect money but had refused to repay, which reportedly angered the man.
When Stabroek News visited the MMC Security Force's office at Happy Acres yesterday morning, a guard on duty said that the inspector in charge was not available to comment on the shooting.
Verwayne's mother, Eslyn Verwayne-Gibbons, said she last heard from her son on Thursday while she was on the road and he passed in his minibus. She said the news of his death was a shock and she is now determined to get justice for him.
The woman said based on what she was told, Verwayne and some other workers had just come off duty and were having a conversation when the shooter, who was heading to work, approached him and said, "Yuh f***ing with my family!" The shooter, she was told, then went into the office and signed for his weapon, which he ten used to inflict the fatal wounds on her son.
She was also told that there was a delay in transporting her son to the hospital. "He mean to kill my son, because if yuh did see my son neck, he ain't shoot he in the foot or nothing, but he neck," Verwayne-Gibbons stated.
Meanwhile, Shelly Verwayne, the wife of the deceased, explained that she received a call from one of his co-workers, who informed her that he was shot and advised that she go to the hospital immediately.
However, due to the distance she had to travel, by the time she arrived at the hospital his body had already been taken to the mortuary.
Shelly said she has since met with officials from the company, who have offered to cover her husband's funeral expenses.
Verwayne was a former member of the Guyana Defence Force.
Around the Web