A family of fifteen from Corriverton is now homeless after a fire of unknown origin gutted their fully-furnished, six-bedroom home on Saturday.
Gloria Downer, 52, of Lot 114 Alexander Street, Rampoor, Corriverton told Stabroek News that the fire began around 3:45 on Saturday afternoon. An investigation has been launched.
According to Downer, she returned home from the market and was preparing dinner for her children when her nephew informed her that smoke was coming from the upstairs of the two- storey home.
"The lil boy run and come now and he tell me aunty he see smoke coming from upstairs…When I go upstairs the whole house in flames", she said.
She said that the fire may have begun in the back bedroom in the top flat as that is where her nephew first saw smoke. However, she noted that no one was upstairs when the fire started. Downer explained that although she was in the lower flat she did not smell the smoke.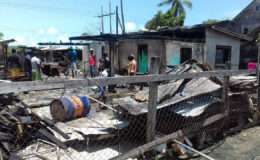 She stated that she then alerted residents who formed a bucket brigade in an effort to contain the inferno until firefighters arrived. "Everybody run and give assistance", she said. Downer  spoke highly of the firefighters who subsequently arrived but were unsuccessful in containing the fire.
"They respond very fast, they tried them best", she noted. Downer explained to Stabroek News that she usually fosters children who have nowhere to go and if their parents are not financially capable of taking care of them.
"As long as I can afford it, I does help them out", she said.
Eight adults and seven children lived in the home. Downer noted that the oldest child is ten years old while the youngest is three years. The family is now contemplating their next move.
"I don't know where I'm going to go now. Last night we go to the neighbours and take a rest", Downer explained. According to Downer, she has lived in the home she lost for over forty years. The woman is pleading with the authorities and kindhearted citizens to assist her and her family in any way possible. Anyone desirous of offering assistance can contact Amanda, a relative of Downer on  602-3160.
Around the Web