A 17-month-old boy drowned on Sunday after he wandered off while playing in his yard and fell into a trench some 30 feet away from his home.
Dead is Alexander Samaroo of Little Biaboo, Mahaica River.
The child's father, Bissondyal Samaroo, a farmer of Little Biaboo, Mahaica River, said he was not at home at the time of the incident, but that his wife and their three children had just returned home from church; it was around 3 pm.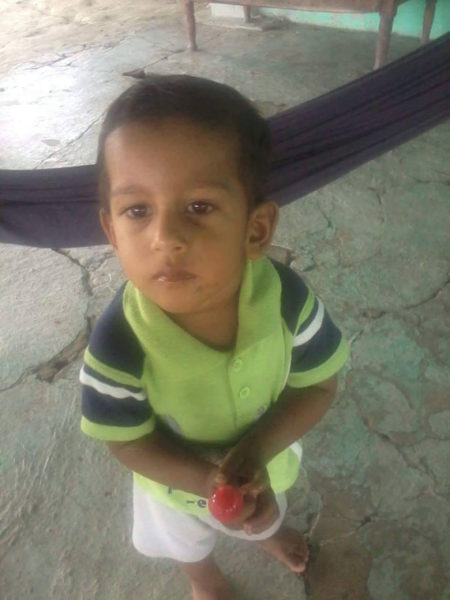 He explained that the children were playing in the yard, as they usually would, under the supervision of their mother. Samaroo said, "She tell me that she been a watch he. He does always run around the yard and play, that normal. She said in less than two minutes she see he gone and when she call he na answer."
A search party was then formed by relatives and neighbours. "Them run and look and search for him, them find him in the trench a side deh," the distraught father told Stabroek News.
According to relatives, the search was carried out for about 15 minutes, after which the child was found in the trench next to a coconut tree.
A post-mortem examination performed yesterday, revealed that the toddler died from drowning. The youngest of three siblings, he was described as always being joyful. "He was real playful, you know how kids be like. His two siblings and him always together playing," his uncle said. Samaroo is expected to be laid to rest sometime today.
Police are conducting an investigation into his tragic demise.
Around the Web