The Guyana Police Force has arrested and charged 356 persons for speeding and 41 for driving under the influence since the launching of the Traffic Department's 'Operation Safeway' campaign last week.
This disclosure was made yesterday afternoon by Traffic Chief Deon Moore during the distribution of a quantity of equipment to various policing divisions.
Among the items handed over were 20 radars, 30 breathalysers, 100 traffic guns, six reflective vests and 100 traffic cones.
Acting Commissioner of Police David Ramnarine, during a press conference last Wednesday, announced the launching of 'Operation Safeway,' which aims to stem the 33% rise in fatal accidents recorded for the year.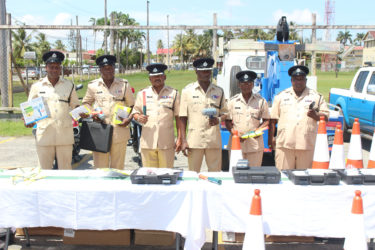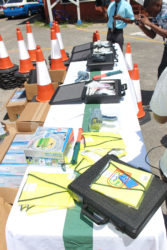 It was reported last week that in the preceding eight and half months, there were 89 fatal accidents compared with 67 for the same period last year. Of the 96 deaths so far, pedestrians are the highest on the list at 29. Nineteen motorcyclists have also died along with 11 pedal cyclists and 14 drivers.
Moore, during his brief remarks yesterday, said there since the operation started there had been an increase in traffic patrols during the day and night, random breathalyser testing and an increased use of radar guns to target speeding.
The operation is being implemented by 200 odd ranks.
He stated that while all divisions will be given added equipment, special emphasis will be placed 'A' and 'C' Divisions, since they are the areas where most of the fatal accidents have occurred.
The Traffic Chief also said that more vehicular patrols will be conducted during the nights since it is the period during which the majority of road fatalities occurred.
Around the Web