An Ogle, East Coast Demerara family was robbed of approximately $3M in cash, jewellery and electronics yesterday morning by two bandits, who posed as customers.
The attack occurred at around 9am at the 21 First Street, Ogle residence, where the bandits turned up on the pretext that they were customers purchasing feed for livestock from the business operated by the family.
After committing the robbery, which lasted approximately 15 minutes, they escaped on a motorcycle.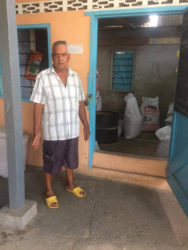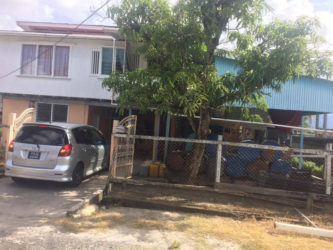 Neville Sooklall, 72, said his daughter-in-law, Patsy Sooklall, was tending to a customer when one of the bandits stuck her up and demanded valuables. Neville added that when the bandits entered, they seemed like normal customers who were asking for the prices of feed.
Neville said when Patsy made the sale of the livestock feed to one of the bandits, he paid her but quickly collected back the money from her. It was at this point that Neville said he overheard the bandit making demands.
At the same time, the other bandit instructed two neighbours and a customer along with Neville to sit in the verandah, where he stood guard.
Neville was robbed of $15,000. "The man ran through my pocket and tek out the money I had," Neville recalled.
Meanwhile, Rajendra Sooklall, Patsy's husband, recounted what his wife, who was too traumatised to speak, told him.
According to him, the bandit escorted his wife into the home and instructed her to hand over the cash and jewellery. She directed the bandit to a wardrobe, which he ransacked and retrieved a quantity of jewellery worth approximately $2M. It was pointed out that the man also picked up two computers, a tablet, four digital cameras, a portable DVD player and an iPhone. The bandit also escaped with $300,000 in cash, according to Patsy. The bandits placed the items into haversacks before escaping on a motorcycle.
Rajendra added that the bandit wanted to venture to the upper flat, but Patsy discouraged him by saying, "An old lady living there."
Neville recounted that after some time, the bandit that stood guard informed his accomplice that they should leave. He told him, "Time bai! Time bai!"
In recent weeks, there has been a spate of robberies where bandits pretended to be customers before launching their attacks.
Up to last evening, acting 'C' Division commander Paul Williams told Stabroek News that the police had not made any arrest as yet.
Around the Web