Through a collaborative effort by donors, the Georgetown Public Hospital Corporation (GPHC) received endoscopic equipment yesterday that will help to screen and diagnose a number of digestive tract abnormalities, GINA said.
Senior Surgical Registrar and Surgeon of the GPHC, Dr. Ravi Motilall who handed over the equipment to the hospital on behalf of the donors, said it would allow the hospital's staff to make diagnoses and be able to treat them properly. "This is something that the hospital has been struggling with, (not) making those diagnoses because we have lacked those equipment," Dr. Motilall stated.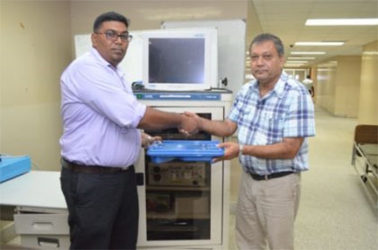 He further stated that failure to  diagnose these cases, especially those with digestive tract bleeding, could result in patients dying, if not properly screened and diagnosed.
Endoscopy is a nonsurgical procedure. Using an endoscope, a flexible tube with a light and camera attached to it, a doctor can view images of a person's digestive tract on a colour TV monitor. During this procedure, an endoscope is passed through the mouth into the throat then through the esophagus allowing the doctor to examine the stomach and intestines.
Dr. Motilall said that over the past few months he has seen a growing number of reported colon cancer cases. The surgeon said doctors might be missing the early signs due to not having the necessary equipment, GINA reported.
"Making the diagnosis early is where the impact is made as a surgeon, making the diagnosis late, you end up losing the patient," Dr. Motilall explained.
Chief Executive Officer, Michael Khan said, "We appreciate the efforts of Dr. Motilall. His effort at the hospital is only the receiving end, it didn't cost us any money. I express my thanks to the donors he was able to contact, and on behalf of the board and management of the corporation."
Chairman of the Board of Directors, GPHC, Dr. Carl Max Hanoman also expressed his thanks saying that, "It's always good to be on the receiving end of such expensive equipment, it's about time the Georgetown Hospital is on par with the private hospitals. Georgetown Hospital is the people's hospital, and is a hospital for poor people so these facilities will be available to the poor people of this country."
Around the Web