A mother of eight was accidentally shot in the vicinity of the Stabroek Market during a shootout between a policeman and a fleeing bandit yesterday afternoon.
The woman, Jean Rodrigues, 54, of 35 Crane, West Coast Demerara, was rushed to the Georgetown Public Hospital, where she was admitted as a patient.
The shooting occurred sometime after 4pm.
Acting Crime Chief Hugh Jessemy last evening told Stabroek News the woman was accidentally shot by a round discharged by an armed bandit. From preliminary reports, he said, a traffic rank responded to a robbery and chased behind the suspect and rounds were discharged in the direction of the police.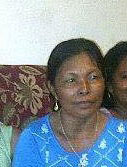 Jessemy explained that they are currently working to capture the suspect to have a full understanding of what occurred during the chase. He noted that the rank is also assisting with investigations.
However, Rodrigues' family is claiming that she was shot by the police.
Her daughter, Keitha Persaud, recounting the events prior to her mother being shot, said they were standing at the Timehri Bus Park waiting on a bus when her mother informed her that she felt a sting on her back. The woman said when she and her sister checked, it was discovered that the woman had been shot. "We were sitting [at] Timehri Park there and the police was running and shooting behind a guy and end up shooting her in her back," Persaud claimed.
She noted that during the shooting more than one shot was fired. Persaud added that after being shot, she rushed her mother to the hospital via a taxi.
Stabroek News learned that the woman was shot in her back above her hip and the bullet is still lodged.
According to Persaud, she is unaware of the reason behind the shooting. "I see he (suspected bandit) running in front and the police running behind him," she said.
While Stabroek News was at the hospital, the woman was being prepped for an x-ray.
Rodrigues, her husband, their three children and a grandchild were waiting for a bus to travel to Grove, East Bank Demerara to attend a relative's wake yesterday afternoon.
Around the Web