The mother of the baby who fell on the Georgetown Public Hospital's (GPH) floor during delivery a month ago said that Neurosurgeon Dr Amarnauth Dukhi has told her that his fractured skull needs at least six weeks to heal.
Nyesha Hamilton, 21, of Eighteenth Street, Dazzel Housing Scheme, who delivered her first child, Ricardo Hamilton, traumatically on the hospital's floor, said that according to the doctor the baby's injury was not serious and because he is a newborn, the small fracture and the bump can heal. Hamilton said that though she was relieved to hear this, she still worries that there could be long-term effects when her child is older. However, she said the doctor has not indicated that there could be any such effects.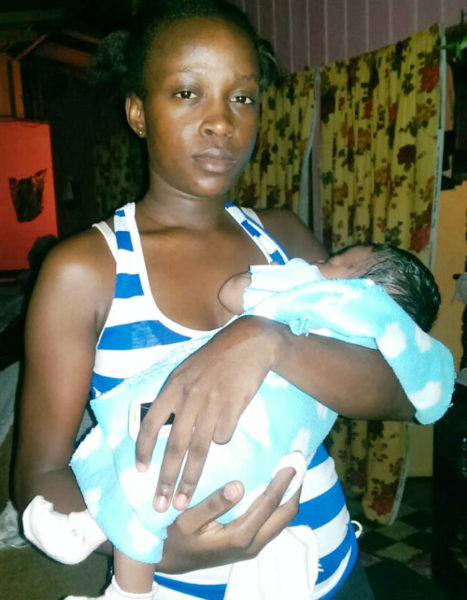 According to Hamilton, she was admitted to the GPH on August 21 around 9 pm after experiencing sharp pains while she was at home. Hamilton said that when she arrived at the GPH's prenatal wing she was checked by two doctors who told her she was dilated 4 cm and later 5 cm.
She said that ten minutes later she felt as though the baby was coming. "So I told the midwife who was there that 'I feeling this baby coming. Come, come check me,' and she just told me she's not checking me because the doctors just check me," Hamilton said.
"After that first midwife who was rude left, I told a second midwife who was there at the time that I could feel the baby's head."
She said after that midwife examined her, she told her that she would have to walk from the prenatal wing to the delivery room because there were no wheelchairs to take her.
"As we were walking, I hold her [the midwife] and told her I feel this baby coming down, and she said ok and that I must continue walking until someone comes with a chair.
While walking the baby just came out of me, through my underwear and fell on the hospital floor," Hamilton said. She said that though the baby fell, it was not from her standing height, but from a stooping position she had put herself in.
The young mother said that when the baby fell, "Like everybody who was around was scared to pick up the baby. She [the midwife] did not want to pick him up, so she told me to bend down and pick him up," Hamilton said.
She said she bent down and picked up her baby boy who was still attached to the umbilical cord. "After that they got a chair and took me and the baby to the delivery room. In there they cut the cord, cleaned the baby and handed him to me."
According to Hamilton the next day, she noticed swelling on the left side of her baby's head.
"We weren't discharged as yet when I noticed the swelling, and I showed them," Hamilton said. She said the baby was then taken for a CT scan, and was found to have a fractured skull and internal bleeding in his head, but doctors did not want to operate on the baby because he was just a day old. "So for the 13 days they kept us in the ward they had ice on his head and he was being fed through a tube," Hamilton said.
The mother is upset that the staff at the maternity wing did not ensure that she had a safe delivery. "I mean they should always have chairs available to take you over to the delivery room; is not like if I didn't tell them the baby was coming," she said.
Public Relations Officer (PRO) at the GPH Mitzy Campbell said that according Dr Dukhi the child will be fine; the swelling of his head has gone down and he has started developing. The doctor said it was important for the mother to keep follow-up appointments so that the baby could be monitored, she added. The infant's next clinic date is slated for October 3.
According to GPH PRO, the hospital's administration only learned of the incident on Monday last when it was contacted by a media house and Hamilton met GPH Chief Executive Officer Michael Khan that same day.
Though the midwives have been heavily criticized for this latest incident, Campbell said that any action to be taken against them will have to be done by management, which is currently looking into the reports that covered the night Hamilton gave birth.
On November 3 last year, an infant fell at the GPH and fractured his skull one hour after he was born. It had been alleged that he fell from a cot on which he had been placed by a GPH staffer.
Azim Balgobin, who also sustained a fractured skull and internal bleeding, was operated on three days later and it was reported that the surgeon successfully removed blood clots that had developed as a result of the fall. His parents later sued the hospital for $20 million. The case is pending.
Around the Web