An attempt by bandits to break into a Diamond, East Bank Demerara home, though unsuccessful, has traumatized a man and his wife who lamented the lack of action by the police.
Brian David of Block X Diamond, who is employed as a driver, is also now afraid that his home will be targeted again by what he called "barefaced bandits."
David, who is employed in the Circulation Department at Stabroek News, was making deliveries along the East Coast Demerara at 3.30 am yesterday, when his wife who was at home alone,  called and told him persons were trying to break into their house.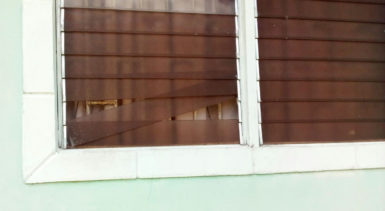 He said he told his terrified wife to stay in the house and to call the Diamond Police Station. Alarmed himself, David then called his supervisor and told him he needed to go back home.
David said during his drive down the coast, his wife called again, this time more frantically. "She call me hollering for help. She said she was hearing them going around the house, removing the window panes and rocking the grill," David said. The couple's house is a single-flat home.
Helpless, he said he asked his wife if the police had arrived as yet and she had replied in the negative. His wife told him she had called both the Diamond and Grove police stations and was told the police were coming. David said one station even returned a call to find out if the bandits were still there.
By this time, neighbours, alerted by his wife's screams, got up and began to put on their lights, though no one ventured outside.
This, coupled with the inability to get past the iron grilles, saw the bandits abandoning their quest to enter the home. By the time David arrived home, they had left.
"I went home first, then to Diamond Police Station to enquire why they had not come and a police officer by the name of Jackson told me their vehicle broke down and it was the same with Grove Police Station vehicles too," David said. He expressed wonder that two police stations could have had inoperable vehicles at the same time.
David said he is fearful that the men might return, since they seemed to know his movements.  "They [bandits] very barefaced because just the other day I installed some bright lights outside my home. Down to the lights aint keeping these men away," he said. He added that the reason he had installed the lights was because of recent break-ins that were occurring in Diamond.
The man expressed hope that the police will be more efficient in their job and go back to protecting and serving.
"It seems as though the police are leaving us to the mercies of the criminals with this no vehicle thing," David said.
When the Diamond Police Station was contacted yesterday afternoon, the officer who took the call said he had no knowledge of the morning's incident.
Around the Web