The village of Aishalton, in South Rupununi, Region Nine, received a boost to its health sector after receiving two All-Terrain Vehicles (ATVs), a motorcycle and a quantity of medical supplies last weekend.
The presentation was made by the Minister of Public Health himself Dr. George Norton.
Recipients of the ATVs were Malaria Control Programme Officer Wallace Rodrigues and Community Health Worker Jude Paul, while Environmental Health Assistant Ermalinda Joseph was presented with the motorcycle.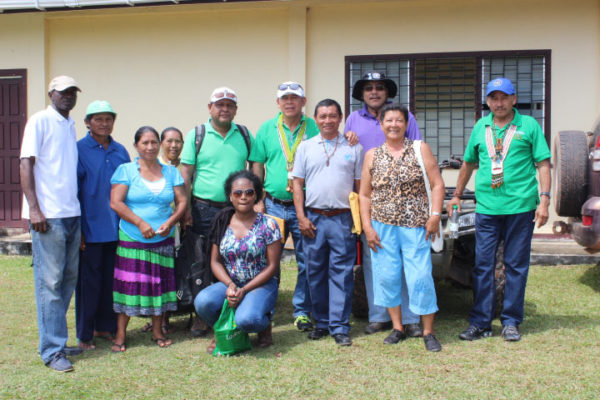 According to a statement issued by the Ministry of Indigenous Peoples' Affairs, owing to the challenges presented in the form of the terrain in the South Rupununi, the healthcare professionals were unable to effectively carry out their duties and the Minister of Public Health saw the need to donate the vehicles to the community.
Addressing residents during a meeting in the community, Norton reaffirmed the government's commitment to improving the lives of all Guyanese, regardless of their geographical location.
Coming out of the meeting, the statement said concerns were raised by residents with regards to patients being left in the care of the Ministry of Indigenous Peoples' Affairs after being transferred to the Georgetown Public Hospital (GPH) for medical attention.
It was their contention that when these persons are discharged from the hospital, the Ministry of Indigenous Peoples' Affairs is left with the task of ensuring the safe return of the individuals to their respective communities. However, this is not always done in a timely manner and such persons would have to remain at the Indigenous Residence in Georgetown before they are able to rejoin their families, residents said.
Concerns were also raised over the deplorable condition of their main road, which residents say poses some amount of discomfort to patients who have to use it.
In addressing the issues, Minister of Indigenous Peoples' Affairs Sydney Allicock, who was also present at the meeting, assured residents that both ministries will work together to ensure patients return home in a reasonable timeframe after being discharged from the GPH.
With regards to the condition of the road, Allicock stated that the ministries of Public Infrastructure and Communities are working together to address issues of this nature.
According to the statement, the Ministry of Communities is currently constructing a bridge over the Churikad Woa creek, located approximately ten minutes from the village.
Before works on this bridge began, any amount of rainfall would have caused the water level to raise, forcing residents to wait on either side of the creek until the water recedes before continuing their journey.
Expected to be completed in the coming week, the bridge will bring immediate relief to residents. Additionally, two bridges have already been completed in the area, the statement concluded.
Around the Web