A cane harvester from Cumberland Village was discovered hanging in front of the door of his house from a rope around 4:50 pm yesterday.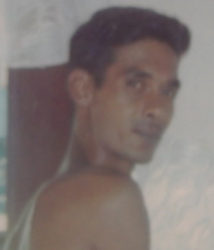 The man has been identified as  Bodnarine Mohamed, 51, known as 'Jerry' of Lot 34 New Street, Cumberland Village, East Canje, Berbice. His wife Chandrawattie Ramkumar explained to Stabroek News that she was returning home from the front house in their yard when one of her sons who made the discovery raised an alarm. According to Ramkumar, for the past 31  years of their marriage, during his drinking sprees, Mohamed has been threatening to kill her and then himself. She said that on numerous occasions he has threatened her with a cutlass but relatives and neighbours would intervene. According to information gathered, Mohamed had recently told his friends that he was going to kill himself, however, they took the threat lightly as this was a norm with him. Mohamed leaves to mourn his wife, three children and other relatives and friends.
Suicide in Guyana is a serious social problem as according to a PAHO/WHO report, Guyana has the highest rate of suicide in the world. If you, or any one you know is experiencing suicidal thoughts, you can contact the suicide helpline to receive assistance.
The Inter Agency Suicide Prevention Help Line can be accessed through the following:
Telephone: 223-0818, 223-0009 and 223-0001
Mobile: 600-7896 or 623-4444
Email: moc.oohay@ycnegayug
BBM: 2BE55649 or 2BE56020
Twitter: @guyanaagency
Whatsapp: 600-7896 or 623-4444
Facebook: Guyana Interagency Suicide Prevention Help Line
Around the Web