Rakesh Karramchan, a fourth suspect in the murders of two men and a teen boy at Mibicuri in July, was yesterday charged and remanded to prison by Chief Magistrate Ann McLennan.
Karramchan, 40, of Lot 4 Sheet Anchor, Corentyne, Berbice, was not required to plead to the charge that between July 21 and July 22, he murdered Pawan Chandradeo, 37, his son, Jaikarran Chandradeo, 15, and Naresh Rooplall, 33, at Mibicuri Backdam.
The deceased were found less than a day after they had left to go on a fishing trip at Kokerite Savannah, Mibicuri Creek.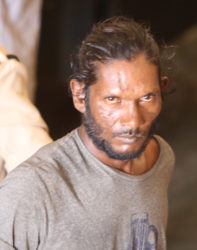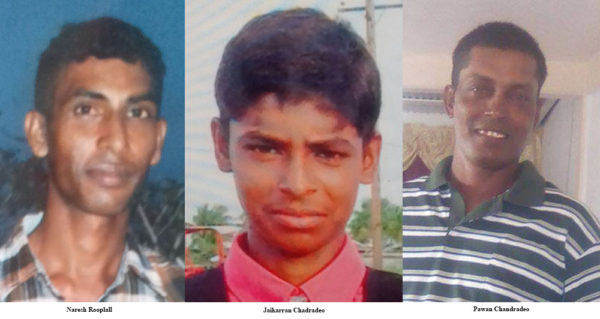 Karramchan, who said he is a fisherman by profession, told the court that he did not commit the murders.
Three farmers, Carlton Chaitram, 40, Jairam Chaitram, 18, and Tameshwar Jagmohan, 26, all of South Mibicuri, Black Bush Polder, Corentyne, Berbice, have already been charged with the murders.
The Chief Magistrate yesterday transferred the case to the Mibicuri Magistrate's Court for October 4, while Magistrate Charlyn Artiga transferred the same case involving the three jointly charged accused to the court for report on October 18. Karramchan is expected to eventually be jointly charged with the three other accused.
Indrawattie Rooplall, a relative of the deceased, was present at the Whim Magistrate's Court yesterday and the still grieving woman told Stabroek News that she will try her utmost to be present during all of the court hearings to ensure justice takes its course.
An autopsy revealed that Pawan Chandradeo sustained a laceration to his head, resulting in a fractured skull and he subsequently died of shock and haemorrhaging. His son, Jaikarran, and his brother-in-law, Rooplall, also died of shock and haemorrhaging.
A shotgun is believed to have been used to inflict the deadly wounds on the three.
Around the Web