Leader of the Opposition, Bharrat Jagdeo, on Monday attended the final Clinton Global Initiative's (CGI) Annual Meeting in New York.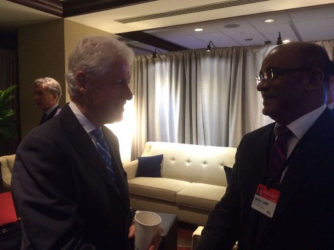 According to a press release from the Office of the Leader of the Opposition, this year's meeting, the twelfth, addressed a series of global issues, including how the international community can build from last year's Paris Climate Change Agreement.
The release stated that the Paris Climate Change Agreement is likely to become international law in the coming months after it is ratified by the requisite number of countries, so global leaders are now consulting on how its provisions can be strengthened and global ambition to combat climate change can be increased.
CGI, which was founded in 2005, became a platform for corporations, non-profits, nongovernmental organizations and wealthy philanthropists. The CGI will close by the end of this year.
After attending the CGI, Jagdeo moved to a further set of meetings in New York, focussed on international plans to address climate change, the release said.
The release added that Jagdeo is slated to be the guest speaker at the Dr Eric Williams Memorial Lecture at Florida University in Miami.
Around the Web