The National Communications Network (NCN) is once again facing a call for a review of its operations after purportedly asking anchor Natasha Smith to retract her claim that she was yanked off air because of her pregnancy.
The pregnant Smith, who was reportedly called out from a doctor-ordered bed rest to attend a meeting, is now hospitalised and hinted early yesterday morning that she might have gone into labour prematurely four weeks before the baby was due. However, late last evening sources close to the woman said that she is being monitored by doctors since her pressure is high.
The Guyana Press Association (GPA) yesterday roasted NCN over its handling of the cases of Smith and another employee, Jocelle Archibald-Hawke, while maintaining that the network's management is instituting willy-nilly sanctions that "are not grounded in any stated management directive or policy."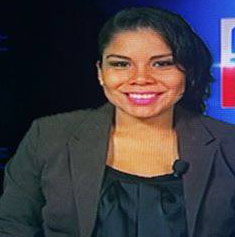 "We urge that this practice be discontinued forthwith," the GPA said in a statement, where it once again called for the intervention of the Chairman and Board of Directors of NCN and the Office of the Prime Minister to look into the operations of NCN.
Following public outcry, Smith eventually resumed anchoring duties but maintained that she was removed due to her pregnancy.
NCN on Wednesday issued a statement saying that its board had hired the services of communications practitioner Abraham B Poole, who found that actions taken by the network in relation to two female employees did not amount to gender bias nor were those actions discriminatory.
Poole is said to have found that there was no gender bias and that Smith was not targeted because of her pregnancy. As it relates to Archibald-Hawke, he found that notwithstanding serious disturbing infractions, NCN opted for discipline to effect change and that it was compassionate in later deciding that she would be paid during her month-long suspension. A negative comment that Archibald-Hawke made about a colleague on Facebook was the catalyst for her suspension.
The GPA yesterday said it was appalled to learn that the management of NCN summoned Smith to a meeting, in the presence of Poole, on Monday and maintained that she was not removed from anchoring the news because of her pregnancy, while the suggesting that her clothing was too tight. It said it also sought to have her retract her statement in light of the "explanation" she was given. It said too that Smith was being asked to disclose the names of the managers who informed her of the decision of Chief Executive Officer (CEO) Lennox Cornette at a management meeting where the decision to remove her was made.
The GPA said it was "disturbed by the continuing ludicrous, inhumane and degrading positions and actions" of NCN, while it saluted Smith for refusing to withdraw her statement.
It was also pointed out that the minutes of the August 8, 2016 management meeting showed that Smith was indeed removed by the CEO because of her "present condition" and that he had instructed a "tight shot" of her during broadcasts to "remedy the view."  "That decision was communicated to Ms Smith by other managers, who all understood the CEO's direction to be that a pregnant Natasha Smith could not continue as news anchor," it added.
The GPA said it also supported Archibald-Hawke's decision not to attend NCN's management meeting without a representative of the union.
"NCN can go to the moon and back about why Mrs Archibald-Hawke was suspended but the fact remains that Mrs Archibald-Hawke was suspended SOLELY on the grounds of a post she made on social media against another colleague; NCN should therefore drop the hogwash about her past record," the association said.
Rather, according to the GPA, NCN's records prove that she received an excellent performance rating just before she was suspended and received her gratuity in full. As a result, it said "it was clear that whatever may have been management's grouse with her in the past were never considerations for disciplinary action and by suggesting that her suspension had anything to do with her past infractions is disingenuous and an attempt to discredit her character and work, and to drag her through the mud."
President David Granger and Prime Minister Moses Nagamootoo have criticized NCN's treatment of both women, with the Head of State describing the removal of Smith as "out of order" and the depriving of Archibald-Hawke of one month's salary as a form of punishment as "inhumane."
Around the Web