Health services offered by the Georgetown Public Hospital (GPH) got a boost from the Chinese Government yesterday with a donation of US$420,000 worth of medical equipment and supplies. During a simple handing-over ceremony, Minister within the Ministry of Public Health Dr Karen Cummings thanked the Chinese Government for yet another significant contribution to Guyana's health sector.
She went on to highlight the sector as one of several that is currently undergoing reform to provide the highest quality health care services to all Guyanese.
"Today's donation… is well timed as it arrives just when it is most needed. Moreover, this timely intervention will impact positively and in a major way on our efforts to ensure quality health care service becomes the norm in Guyana," the minister said.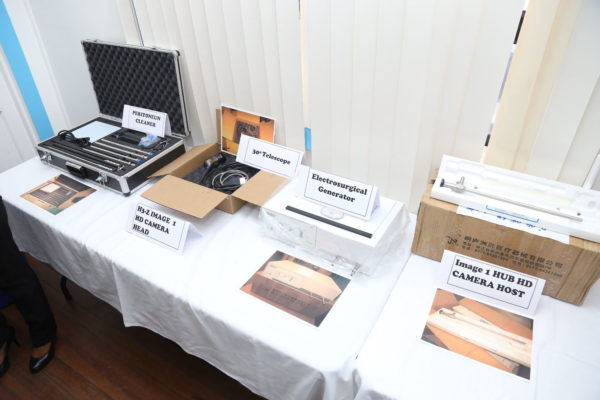 Moreover, Cummings noted that bilateral relations between Guyana and China continue to be strengthened as time goes by and which is reflected by the countless donations in the areas of education, infrastructure and health.
"Through the bilateral relations with the Peoples Republic of China, we have been able to witness the establishment of an eye clinic at the GPHC as well as the commissioning of Laparoscopic Centre at the Linden Hospital Complex in September 2014… Further there has been the more recent establishment of a much needed trauma centre at the GPHC," Cummings continued.
She also highlighted the roles played by the visiting Chinese Medical Brigades which continue to contribute in the areas of orthopedics, obstetrics and other specialty areas.
"From the arrival of the first brigade 23 years ago, they have continued to provide quality medical personnel in subsequent brigades… the 12th Chinese brigade is currently serving in Guyana and they continue to provide quality service for which we are very grateful," Cummings posited.
"We at the ministry are very enthusiastic about the donation that will significantly improve health care in Guyana… I am very confident that as we move towards the future, both countries will continue to build on the unshakable foundation that has been carefully cultivated through the years," she added.
Also present at yesterday's handing over ceremony was China's Vice Minister of China's National Health and Family Planning Commission (NHFPC) Cui Li, who had arrived in Guyana just hours before.
Li, in brief remarks as leader of the Chinese delegation, expressed her gratitude to the government and the people of Guyana for their continued trust and support over the years as the Chinese work with the local professionals to improve the local health sector.
"Chinese medical teams have served Guyana for more than 20 years during which they have provided best services they can… There are currently 6 doctors on the Chinese medical team who would have left their families, their country and their familiar environment to come here to work with Guyana's local doctors and they should be recognized for their hard work," the Vice Minister said.
Further, Li encouraged the doctors to continue their partnership with the aim of fostering a more prosperous relation between the two countries.
Similar sentiments were shared by China's Ambassador to China Zhang Limin who was also in attendance yesterday.
"China and Guyana enjoy a profound friendship. Over the 44 years of diplomatic relations especially recent years, the bilateral relations have been developing in a sound and stable manner. Pragmatic cooperation in health and other fields keep developing," the Ambassador said.
He further acknowledged the increase in mutual visits and exchanges of health delegations, as well as the continuous donation of medical equipment and supplies worth hundreds of thousands of US dollars.
Additionally, he made mention of the ten plus Chinese Government scholarships that that are awarded to Guyanese students who chose to study medicine in China.
All this, he said has not only improved the health facility and technology but also strengthened Guyana's ability to self-develop in health.
"Both China and Guyana highly value their relations with each other, thus further deepening mutually beneficial cooperation serves the interests of our two countries and two peoples. China will continue its assistance and support within its capacity for Guyana's development and stands ready to work with Guyana for the continuous of friendly cooperation in various fields," the Ambassador said.
Around the Web