Late Ombudsman, retired Justice Winston Moore was yesterday remembered as an intellectual, an outstanding public servant, a role model, a family man and a staunch upholder of the rule of law.
Moore, 72, passed away last Friday and was laid to rest in his native Corentyne, Berbice yesterday afternoon.
A funeral service was held during the morning hours at St. Andrew's Kirk, following which his body was transported to the St. Saviours Presbyterian Church at Auchlyne, Corentyne.
His sister, Claudette White, who delivered the eulogy, said that for Justice Moore, family, loyalty, education and hard work were important. She described him as a "gentle soul" and noted that from early childhood he had displayed a capacity for learning and based on his brilliance could have chosen any career path.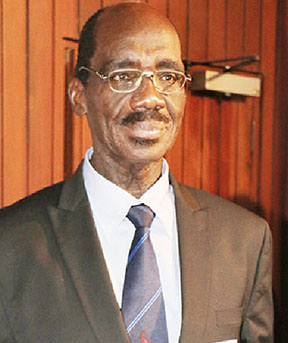 She said that he intended to become a medical doctor but was forced to switch because the school he attended at the time did not offer science subjects.
White said that at age 17, Moore left home to become a public servant in the Inland Revenue Department in Georgetown. In 1967, he became a cadet officer. He subsequently married. She said that in 1973, he left the army and thereafter worked at the Demerara Mutual Life Insurance Company until 1980, when he moved his family to Barbados to pursue his law studies.
He returned to Guyana in 1983 and accepted a position at Inland Revenue, she said, while adding that his employment there later came to an abrupt end. He then entered into private practice and was later appointed as a High Court judge.
White described Moore as a patient person, who held others to the same standards that he set for himself. She also said her brother was kind and was always ready to assist others.
Amidst tears, she said that despite his achievements, he maintained that his children were his greatest accomplishments.
Kingston Felix, a longtime friend, recalled their days together in the Guyana Defence Force (GDF). He said that their friendship evolved after army life and they often exchanged ideas about work, family and the future.
Though he moved away to the United States and Moore began pursuing his studies in Barbados, he said that they remained close. "Justice Moore was an upright individual, he never compromised his integrity. He was a man of strong character and despite the fact that he achieved so much he never boasted or lost the common touch," Felix said.
He said that though heartbroken, he finds comfort in the fact that "I stood by his side in his moment of need."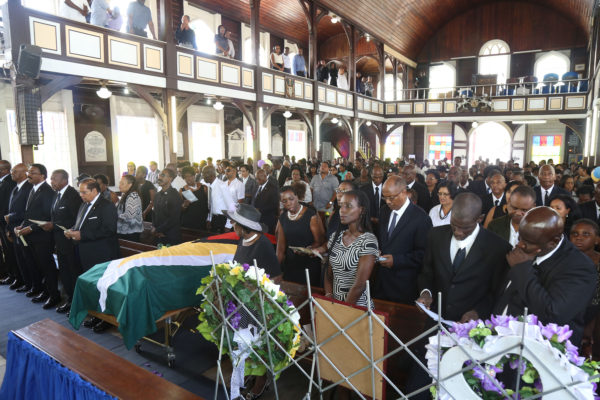 Former magistrate Leslie Sobers, who was a former law partner and close friend, spoke of his admiration for Moore and jokingly recalled that "he wouldn't listen to my whole story. He always wanted to cut to the chase." He said that they became closer after the law firm Moore, Harmon, Sobers and Gaskin was formed in 2007.
Sobers said that Justice Moore, despite his workload, would set aside time to give guidance to those at the law firm.
"Justice Moore was as meticulous with money as he was with time," he said, while noting that he had first-hand experiences to support this.
Justice Moore's children also paid tribute to him and recalled the fun times as well as the discipline he instilled in them and the guidance he provided. Each of the three of four children who spoke were emotional. But with some effort they were able to calm themselves as they reflected on fond memories.
Acting President and Prime Minister Moses Nagamootoo said that Moore was an "outstanding public servant and a distinguished jurist."
"You have lost the head of your family, this church has lost an elder, civil society has lost a leader and the government has lost an outstanding public servant," he said.
Nagamootoo, who was also born in Berbice, said that Justice Moore was his "countryman" and that was how they greeted each other while he served as a judge, lawyer, and then the Ombudsman.
"His record of service to our nation is truly worthy of emulation," he said, while noting that his appointment as Ombudsman is testimony to his character, to the perception of his honesty and fairness and to his ability to dispense justice.
"As we commiserate with the family of Justice Winston Moore at his passing and as we celebrate his life, we may take this opportunity to reflect on our individual selves with regard to our mortality, humanity and obligations to our society," he said, while adding that perhaps the best tribute to him would be to resolve to emulate the "outstanding son of the soil in his contributions to our society."
Acting Chief Justice Yonette Cummings-Edwards and GDF Deputy Chief-of-Staff Colonel George Lewis were among the others who paid tribute to Moore during the service, which lasted for close to two hours.
Among those who attended the service were former president Donald Ramotar, former Attorney General Anil Nandlall, Chairman of the Police Complaints Authority retired Justice Cecil Kennard, President of the Guyana Bar Association Gem Sanford-Johnson and members of the judiciary.
Around the Web