The access road to Canal Number One, West Bank Demerara, will soon be repaired as the Ministry of Public Infrastructure (MPI) is scheduled to begin corrective works this week, according to Jacoba Constantia-Conservancy Neigh-bourhood Democratic Council (NDC) Chairman Dhanraj Bipath.
During a visit by Stabroek News to the area last week, a section of the Canal Number One road was observed to be in a deplorable condition. One of the road shoulders was eroded, while cracks and small potholes were also evident.
According to drivers, they have been suffering as a result of the deplorable road. Residents and taxi operators said they have made numerous calls to authorities to fix the road.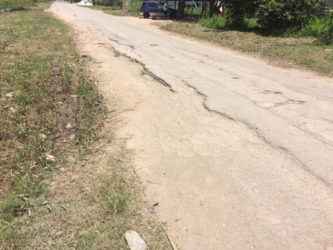 Bipath said that as a result of the NDC receiving numerous complaints from road users, they had written to the Public Infrastructure Ministry for assistance. He explained that the ministry responded and has started remedial work in Canal Number Two, after which he said it would be looking at the Canal Number One road.
Stabroek News had reported a few days ago that residents of Canal Number Two were severely affected by the condition of the road.
D Mangal, a taxi driver, said that for the past five years they have been calling on the government to conduct repairs to the road. He stated that in many instances residents suffer because drivers would refuse to take them through the road or would ask passengers to pay a higher fare.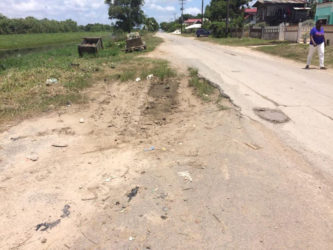 Camille Lall, another resident, told this publication, "We gotta try… this road is very bad. Sometimes we would have to pay extra for them to bring us in, especially if it is in the night." Lall added that not only do taxi drivers suffer because of the road's condition, but also residents who own vehicles. "My husband does complain a lot because you have to be extra careful and drive or if not you get a bend tyre or some damage to the car," she stressed.
Further, residents said that when it rains the condition of the road worsens.
An official from the MPI had told this publication that the ministry has undertaken a four-week maintenance operation on the road, which will cost $14 million and is being undertaken by SYNS General Contractors. The budget covers rehabilitative work for both roads.
According to Bipath, under the former PPP/C government, the 22-kilometre access road in the canal polders was a part of a design for upgrade. He said he is unclear on the status of that project since the change of government.
Around the Web