Assistant Commissioner of Police Brian Joseph on Friday urged 56 new police officers to always treat persons that they are called to assist, as they themselves would want to be treated and to keep justice at the forefront of their minds.
He was speaking at a passing out parade held at the Felix Austin Police College, Eve Leary, under the theme 'Training to Build and Strengthen the Competencies of Ranks, Through Partnerships and Monitoring of Performances'. The 56 new officers from various divisions have completed recruit courses 345 and 346.
Joseph, who delivered the feature address, told them to "work to earn and maintain trust; respect your professional ethics; know the differences between right and wrong and do the right thing."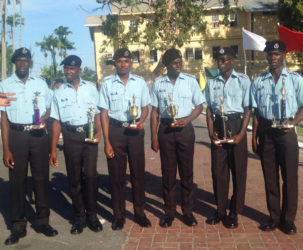 The Head of Presidential Guard explained to the ranks that every day of their lives they will be referred to as police or law enforcement officers and it is very likely that in addition to enforcing the law, they will be required to perform several functions and witness events some of which will be decidedly unpleasant.
"You will be called upon to do the unthinkable at some time or the other and to perform actions that few persons will ever understand, appreciate or ever be able to perform. Don't lose sight of who you are now… a policeman/policewoman and tarnish what you have thus far accomplished," he warned.
Joseph reminded them that they have chosen a noble profession that faces many challenges and in so doing they have dedicated themselves to the service of justice. "You are on threshold of your law enforcement career and all that is asked is that you keep justice at the forefront of your minds," he said, while adding, "be trustworthy and people will trust you. Your character was not developed overnight but it will take just minutes to destroy it."
He cautioned the graduates that their job is not to judge or convict but to be just.
Prizes were awarded to the outstanding graduates for each course. For recruit course 345, Constable 23686 Griffith received the award for the Best Student and runner-up was Constable 23690 Hoyte, while the prize for the Most Improved Student was awarded to Constable 23668 Blair.
For recruit course 346, Constable 23722 Woolford received the Best Student award and runner-up was Apprentice Gilbert. Constable 23701 Pearce was the Most Improved Student.
Around the Web