A minibus conductor is dead and 11 persons are injured after the bus they were travelling in was involved in an accident along the Nismes Public Road, West Bank Demerara last evening.
Dead is 25-year-old Jerry Waldron of Goed Intent, West Bank Demerara. Eleven persons, including the driver of the bus, were taken to the West Demerara Regional Hospital after the vehicle collided with a freshly dug pile of mud, which was left in a haphazard manner on the roadway.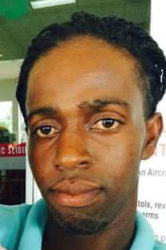 Stabroek News was made to understand that the accident occurred sometime between 6.30 and 7.30 pm in the vicinity of the Nismes branch of the Gafoor's Shopping Complex.
When this newspaper arrived at the scene, a large pile of fresh mud was occupying a section of the road. Residents of the area said the mud was placed there after drainage works being conducted in the vicinity of Gafoor's began late yesterday afternoon. The road was covered in shards of broken glass and blood and persons who converged on the scene used the damaged minibus to block the entrance to Gafoor's.
"The bus was coming from the direction of the bridge and another vehicle was coming in the opposite direction with some bright lights on and the mud was there and it cause him to lose control," one man explained. "The road already ent got street lights and so the place was dark as well… So is like he [the driver] tek he focus off the mud and end up driving straight into in the pile and the bus end up toppling."
"The mud is the issue here… Look at where the pedestrian line is and look how far over that line the mud deh… This is negligence on whoever put this mud out here," another man said.
Several persons stated that the mud was not there earlier in the day, but rather that it was dug up in the evening and was left there with no form of indicator to warn drivers that it was there.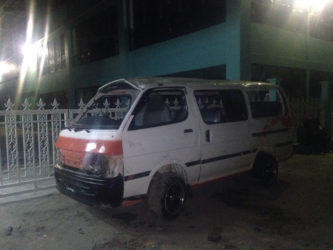 "Is the carelessness of this that mek this man lose he life," another person lamented.
Further, what was more upsetting to those who converged at the scene was what they claim were attempts made by labourers to remove the mud from the side of the road after the accident occurred.
Stabroek News was told that these attempts were foiled by public-spirited citizens.
Around the Web