The family of the teen who died last week Sunday after a worksite accident in Linden, is pleading with the authorities for justice, claiming that it was negligence on behalf of some of the workers
Ramish Rajbally, 19, of Blueberry Hill, Wismar, Linden, was working at a sawmill last week Friday, when he reportedly fell off a log truck. He was rushed to the Mackenzie Hospital and subsequently transferred to the Georgetown Public Hospital where he died two days later.
Speaking to Stabroek News yesterday, the teenager's mother, Dana Albert, explained that Rajbally had left his home around 8 am to take his twin sister to work. "I have a stand and I does sell at a school and she [Rajbally's sister] went to the stand cause she does help me out. So I was at home doing some chores and all of a sudden I get a call and I seh who calling me so early now," she said.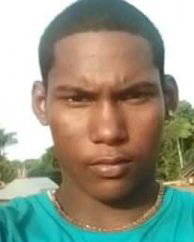 Albert, who buried her son on Sunday and was still emotionally distraught, said the call was from her son's boss who told her he had been involved in the accident at the worksite. "I said WHAT! And he said it's just a little accident and where to [come and meet me," she said.
Albert contacted her eldest son and the two of them rushed to the Mackenzie Hospital where her worst fears were confirmed.
"I couldn't talk to he boss man properly after seeing him [Rajbally] in that state. Blood was coming through his mouth and he said his body was numb and he couldn't move," she said as she held back her tears.
According to the information she was able to gather from her son, he was on top of a truck that was loaded with logs and was assisting with removing them when he was hit off. "Usually they would go on top of the logs and hook it on the heavy duty machine and then go back on the ground before the machine takes it off," Rajbally's uncle told Stabroek News, pointing out that from the information he was able to gather, after Rajbally hooked the log onto the machine, either the machine or log hit him off and threw him onto the ground.
"He suffered injuries to his jaw, ribs and back and so and from what we are hearing is either that the machine, which was being operated by someone, picked up the log and it hit him and he fall off or the log slipped off the machine and the hook backfired and hit him," the man related.
Albert explained that when she tried to obtain the sequence of events from the man's workmates and boss, they all said they did not know since they were not paying attention to him. "Nobody wants to say what happened and they keep saying that they don't know and they didn't see him but that don't make no sense at all," she said.
She emphasized that the family is searching for justice as while Rajabally's boss had assisted with the funeral arrangements he or the person who was operating the machine should be charged because of their negligence.
"I rather suffer and mind my children than to have them go like that. If I trust you to take care of my children then you supposed to take care of them," she said.
Albert also pointed out that her son was not wearing any safety gear. "Them boys [other workers at the sawmill] don't get anything to protect them when they working there and nobody does go and check up to make sure they following the laws. They working with big, big logs and don't wear any helmets or anything of the sort," the woman said.
An official from the Ministry of Social Protection indicated to Stabroek News yesterday that they have since launched an investigation into the matter.
Around the Web