United States Ambassador to Guyana Perry Holloway is on the cusp of securing the funds necessary for the restoration of the historic Stabroek Market Clock.
The standing orders were suspended at yesterday's statutory meeting of the Mayor and City Council so that Assistant Public Affairs Officer at the US Embassy Albert Razick could explain to councillors how the project, which was developed in collaboration with the last council, is progressing.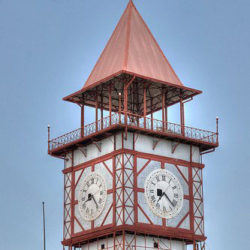 Razick noted that the proposal, developed during December 2015 to January 2016 for the clock to be renovated with funds from the Ambassadors Fund for Cultural Preservation, is in the final stages of approval.
According to the US Bureau of Educational and Cultural Affairs, the US Ambassadors Fund for Cultural Preservation (AFCP) supports the preservation of cultural sites, cultural objects, and forms of traditional cultural expression. AFCP-supported projects include the restoration of ancient and historic buildings, assessment and conservation of rare manuscripts and museum collections, preservation and protection of important archaeological sites, and the documentation of vanishing traditional craft techniques and indigenous languages. It says that by taking a leading role in efforts to preserve cultural heritage, the United States shows its respect for other cultures.
Razick told the council that the United States Embassy had previously tried to access this fund to repair the roof of City Hall and finance a project for the preservation of indigenous dialects without success.
As part of the restoration, the clock's mechanical system is to be removed so that it can be upgraded to an electronic clock, which includes a solar-powered system. After the removal, the mechanical system will remain the property of the city which may store it in the museum. The supporting structure is also expected to be renovated so as to possibly support tours of the clock.
Around the Web