An East Coast Demerara spray painter drowned on Sunday around 3 pm during an outing at St Cuthbert's Mission, Mahaica River
Dead is 23-year-old Devindra 'Orvin' Tiwari of 137 X, Good Hope.
Tiwari along with three friends had journeyed to the indigenous mission to enjoy the heritage celebrations. And it was while they were taking a dip in the river that Tiwari disappeared. Stabroek News was told that divers responded to an alarm raised by his friends and Tiwari was later pulled out of the Mahaica River.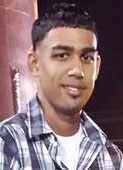 A friend, Ravin Jaikarran, told Stabroek News, "There was a drop and he slipped. I didn't see when he slipped; I was facing the back." Jaikarran said when he turned around he saw another friend pulling up a friend identified as Emily and when he asked about of Tiwari he was told, "He gone down and we shouted for help."
Emily (only name given) said they were in the shallow part of the river but somehow moved and they both dropped into the deep. "We were both being pulled down by the current," she recalled explaining that a friend saved her, but they were unable to save Tiwari.
According to the friends, when they announced that Tiwari was missing persons quickly exited the river. "About two minutes later, the men dived and they found him 15 minutes later," Jaikarran said. The friends also stated that the current in the river was very strong and made it difficult for Tiwari to be saved.
Devindra's father Mahindra Tiwari said he spoke with his son on Sunday morning before he left for St Cuthbert's and hours later, around 3.30 pm, the family was informed of the tragedy.
Family and friends refuted reports in sections of online media that Tiwari was performing a daredevil dive for alcohol. On online media report pictured a man on a tree about to dive in the river. But Emily said, "He was nowhere near those trees. He couldn't even swim much less make it across to jump off a tree…,"
That incident she said happened before the drowning.
Around the Web