A young Skeldon Estate electrician died on Saturday evening in a road accident at Springlands.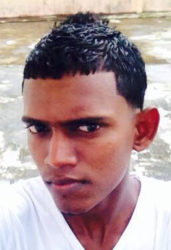 Hemraj Sudama, 22, was riding motorcycle CF 5587 through Jumai Street, Springlands at a fast rate when he lost control in a pothole, which caused him to pitch into a Guyana Power and Light utility pole.
Sudama sustained injuries to his head and other parts of the body. He was rushed to the Skeldon Public Hospital, where he was pronounced dead on arrival.
Traffic Chief for 'B' Division Boodnarine Persaud told Stabroek News that such accidents can be avoided and lives can be saved if persons stop using the road ways "recklessly." He noted that at the time of the accident Sudama was not wearing a helmet, which could have prevented certain injuries. He called on road users to be careful along the roadways, to not drink and drive, to wear helmets when riding motorcycles and to stop the speeding.
Around the Web