A young man was shot dead early yesterday morning while his friend was injured after an argument ended in gunfire in front of the Rio Inn Nightclub in Queenstown.
Dead is Ryan Sergeant, called 'Harry,' 19, of Festival City, North Ruimveldt, Georgetown. Sergeant was shot once to his head and reportedly dumped outside the Woodlands Hospital, where he was subsequently pronounced dead.
His friend, Jeffrey Ferrell, who also resides in North Ruimveldt, was shot to his neck and taken to the Georgetown Public Hospital (GPH), where he underwent emergency surgery. His condition was listed as stable up to last evening.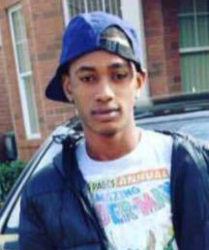 The Guyana Police Force, in a press statement, said due to the availability of CCTV footage, investigators were informed of the possible suspects who were involved in the altercation, prior to rounds being discharged.
Acting Crime Chief Hugh Jessemy, when contacted for a comment, said that investigators have since reviewed footage and are pursuing three suspects. No arrest has yet been made.
Reports revealed that one of the suspects is an ex-policeman and former body guard of drug lord Shaheed Roger Khan.
The shooting occurred around 2.30 am. While the details of what exactly transpired remained unclear up to late yesterday, sources told Stabroek News that Sergeant was not part of the argument but was shot while seeking cover when shots were fired.
This newspaper was told that while in the club, a suspect's girlfriend and another woman were involved in a fight, resulting in the intervention of the men. During the ensuing altercation, firearms were drawn and the scuffle was taken outside, where the men were shot.
It was reported that Ferrell was involved in an altercation with another man over the girlfriend of one of the suspects, which resulted in the suspect and his girlfriend leaving the club. Ferrell and his friends, including Sergeant, followed them outside, where the argument resumed and escalated.
Why?
A huge crowd gathered at the GPH during visiting hours yesterday afternoon as many persons turned up to visit Ferrell. When approached by this newspaper, his relatives refused to comment on the shooting.
A visit to the nightclub by this newspaper saw persons there tightlipped about the shooting as well.
Meanwhile, Sergeant's family was still trying to cope with his sudden death up to yesterday morning. No one was available at his home and this newspaper was told that his mother resides overseas.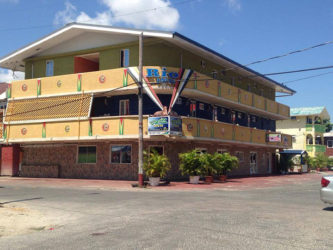 However, his aunts and uncles in the area said that he spent most of his time at their homes, where persons gathered yesterday upon learning of his death. Many were heard saying "they kill he for nothing," while an uncle constantly broke down. He was heard constantly questioning, "Harry! Why they had to kill yuh?"
Sergeant was born and raised in Barbados and only migrated to Guyana some two years ago. While family members related that he was not involved in any problems with anyone, they recalled warning him on several occasions about following "bad company."
His aunt, Rhonda Sergeant, said she learned that he had been shot when she received a call around 5 am yesterday from her brother, who resides in New York.
As a result, she and other relative rushed to the Woodlands Hospital, where they saw his lifeless body on a stretcher. She said that while details surrounding what exactly transpired remain unclear, she was told that he was still alive when he was taken to the hospital. "I heard they took long to take him for medical attention and when they do, they dump him outside the compound and went away," she related.
The grieving woman said that she last saw Ryan alive when he visited her home around 9 pm on Sunday. "He does actually live here because he spend most of his time here," she explained, adding, "he came and was talking to everybody and so then he left saying he was going to the house in Festival City."
The family of Sergeant is maintaining that he was wrongfully killed and is calling for justice.
Around the Web