The National Literacy Unit of the Ministry of Education is using students' love of rap music to make teachers aware of the possibilities of using this medium as a teaching tool.
A 'Rap Fest' competition held at the North Ruimveldt Multilateral yesterday, saw nine secondary students drawn from Regions Two, Four Five and Six singing rap songs that their peers would understand. The lyrics had to include words provided by the coordinators.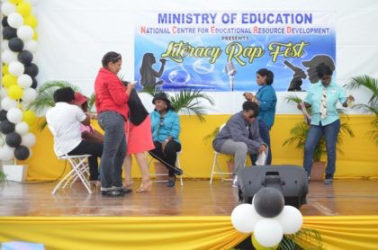 The event also saw special performances by Marcel Hutson, Chief Education Officer (ag), and officers within the National Literacy Unit.
Collette Corlette-Horatio, Regional Literacy Coordinator, stated, according to GINA, that the event was undertaken to, "promote the message of learning styles and multiple intelligences…It aims to support the understanding that learners have different forms of intelligence and that teachers need to become aware of, and to cater to these intelligence within the classroom," Corlette-Horatio said.
Hutson, told GINA that the whole concept of literacy has to with phonetic awareness of letters and sounds. He explained that the event is part of pushing the Five-Cs; (Communication, Cultures, Connections, Comparisons and Communities).
The competition had three stages. GINA said that the first round saw the participants singing a prepared rap song. The song was compiled using 10 words that would have been selected from a list supplied by the National Literacy Unit.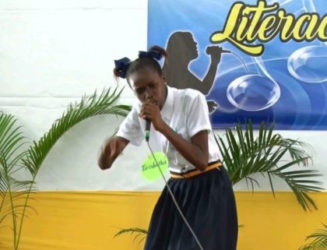 The nine contestants were then winnowed down to six for the second round. In this round these six contestants had to sing a song ending with a word that they would have pulled from a bag just minutes before taking the stage.
In the final round, three finalists battled, singing 10-second rap songs. Trishatha Semple, representing Georgetown emerged the winner.
GINA said that the participants were judged on language and the dialect used in the songs. These could not mock or ridicule anyone. The judges' score was worth 80 per cent with the other 20 per cent given based on crowd response.
Around the Web