Scotiabank's Robb Street branch on Friday launched its 15th annual cake sale fundraiser to aid in breast cancer prevention and treatment programmes.
The cake sale will be held on October 22nd from 7.30 am in front of the bank's Robb Street location.
The sales made during the cake sale are usually matched by the Scotiabank Bright Future Programme, Branch Manager, Brian Hackett said.  Currently, the beneficiaries are the Periwinkle Cancer Club and Guyana Cancer Foundation. In the past, donations were made to the Avon Cancer Society.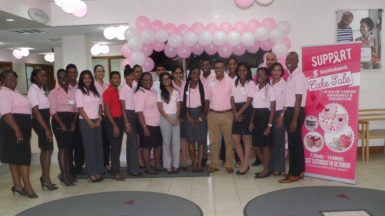 The cake sale which is the "flagship" event of the bank, is supported by staff who would bake cakes and pastries,  customers, friends and other Scotiabank branches in Guyana and the wider community.
"This year we are hoping to top the 2015 funds raised and make an even bigger contribution. To aid in the eradication and treatment of all forms of cancer," Hackett said.
October is designated to bring understanding and awareness of cancers that affect both men and women.
Every Friday in the month of October, staff of the bank nationwide will wear pink to demonstrate their solidarity with breast cancer patients and those living with other cancers.
"Help us to eradicate and prevent this deadly disease called cancer", Hackett said as he called on members of the public to support the cause.
Around the Web