Bids were opened on Tuesday at the National Procurement and Tender Administration Board for rehabilitation and expansion works at the Guyana Water Inc's Shelter Belt.
Among the bids was one for $990m from BK in association with a Trinidadian company. The names of the companies and their respective bids are shown below.
Guyana Water Incorporated
Water Supply and Sanitation Infrastructure Improvement Programme: Rehabilitation and Expansion of Water Treatment Facility at Shelter Belt, Georgetown.


Ministry of Public Security
Construction of Fire Station, Melanie DamIshana, E.C.D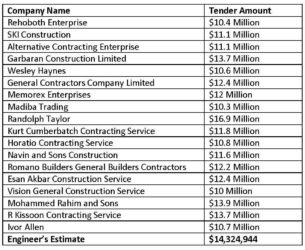 Extension of Prison Headquarters Located at Lot 46 Brickdam, Stabroek Compound.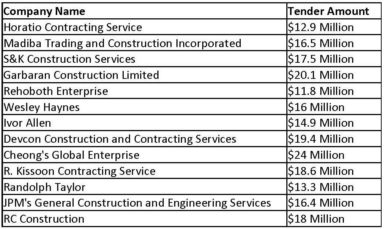 Ministry of Public Infrastructure
Rehabilitation and Construction of Roads and Drains in Bartica, Region 7


Ministry of Agriculture, NDIA
Rehabilitation of Drainage Structure and Timber Revetment at the Enterprise East, Leguan Island, Region3.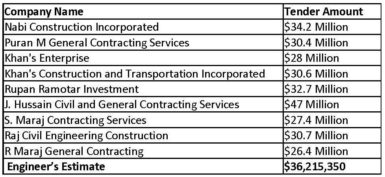 The Ministry of Education, Department of Culture, Youth and Sport
Rewiring of entire building, National Culture Centre, Phase 3, at Homestretch Avenue


Construction of Monument – Phase 1 Preparatory and Access Works, Palmyra, East Berbice, Region Six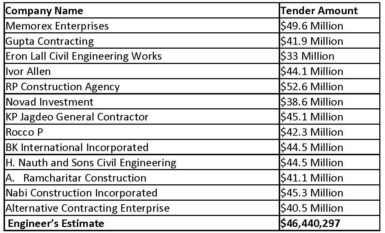 Construction of the Monument Base and Ancillary works- Phase 2 Palmyra, East Berbice, Region Six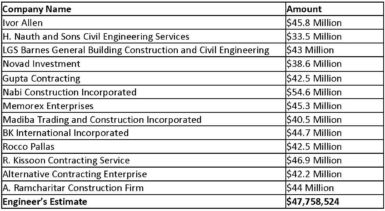 Construction of Monument- Phase 3 Landscaping and Finishing Works Palmyra, East Berbice Region 6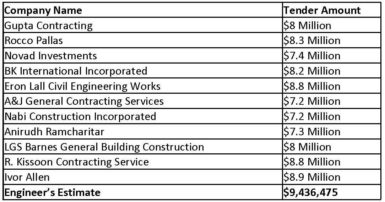 Supreme Court of Judicature
Construction of Judge's living quarters at Suddie, Essequibo, Region Two


Around the Web