The unemployment rate in Guyana as per the 2012 Population and Housing Census has been placed at 12.5 per cent, according to Compendium 3 of the census's findings, dealing with economic activity, which was released yesterday.
According to Compendium 3, the working-age population is currently 504,325, 69.7 per cent of the total enumerated household population. This is up from 468,878, 63.5 per cent in the 2002 Population and Housing Census. This means that the working-age population increased by 35,447 persons or 7.6 per cent.
Though the numbers are different, the rate is the same as that of the 2002 Census. However, according to the Bureau of Statistics, a Household Budget Survey conducted in 2006, had placed the unemployment rate at 10.7 per cent.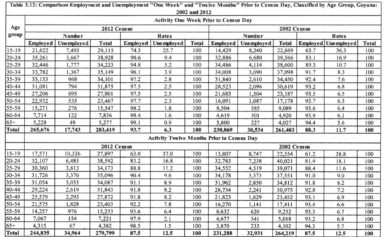 In 2002, the total number of working age people surveyed was 264,219; of that number, 231,288 persons or 87.5 per cent were employed and 32,931 or 12.5 per cent were unemployed. In 2012, the total number of working age people was placed at 279,799; with 244,835 or 87.5 per cent employed and 34,964 or 12.5 per cent unemployed.
The unemployment rate was the highest among younger people: 16.8 per cent among those aged 20 – 24 and 11.2 per cent among those aged 25 – 29. Among those aged 30 – 34, the rate was pegged at 9.6 per cent. It was 8.9 per cent among those aged 35 – 39 and 8.2 per cent among those aged 40 – 49. According to the information released 7.8 per cent of persons aged 50 – 54 were unemployed and this fell to 6.4 per cent among those aged 55 – 59. It must be noted that the largest number of working age citizens, 32,107, were in the 20 – 24 years category, with the highest unemployment rate.
Meanwhile, in terms of gender averages, among the men, who comprised 49.1 per cent of the total working-age population, 77.2 per cent were recorded as 'economically active' (working or looking for a job). Of the remaining 22.8 per cent who were 'economically inactive,' 7.3 per cent were still attending school, 6.9 per cent were retired, 6.1 per cent performed home duties and 2.1 per cent were disabled. Other remaining categories combined accounted for less than one per cent of the economically inactive. In contrast, women comprised the greater proportion of the working age population (50.9 per cent). However, only 34.6 per cent of them were recorded as 'economically active' while 65.4 per cent were 'economically inactive'. Of those inactive, home duties accounted for 48.6 per cent, students comprised 8.0 per cent and retirees 7.1 per cent. On average for the entire country, Compendium 3 stated, 44.5 per cent of the working-age population were not engaged in any economic activity, thus implying that the national average is heavily weighted by the number of women of working-age who are still performing home duties.
The census had explained that the "Labour force also does not include those people who are engaged otherwise in household activities, for such activities though essential and contribute to the household income, 'are ignored in standard formulations of economic output such as GDP or employment figures'".
Additionally, it stated that the number of retirees, 35,205 or 7.0 per cent of the working-age population was a reminder that the population is ageing and this is a growing concern. The proportion of retired persons is expected to further rise due to the increase in the life expectancy and reverse migration. The Bureau of Statistics surmised that in order to continue to make use of these elderly retirees, there is need for structural support programmes, so that the skills and expertise of the ageing population could still be utilized. The rate of growth of this group also signals the need for effective social and economic programmes, so that they could enjoy their later years.
Meantime, according to the Bureau, Guyana has not executed a labour force survey in more than two decades as such an undertaking requires Cabinet approval and funding. The second best approach has been the intercensal Household Budget Survey and the Population Cen-suses from which information has been gleaned since 1991. However, moves are afoot to change this and quarterly labour force surveys will commence next year, the Bureau said, with technical support from the Inter-American Development Bank.
Around the Web