A man was yesterday granted his release on bail after he denied escaping police custody.
Jonathan Mohammed, 25, was brought before Magistrate Fabayo Azore on a charge of escaping police custody, pending a charge of unlawful wounding, on September 27 at the Ruimveldt Police Station.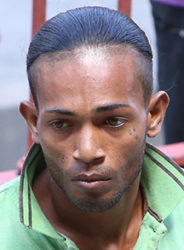 Mohammed, a fish vendor, pleaded not guilty to the charge.
According to the prosecution, on the day in question, while in police custody, Mohammed asked an officer to use the washroom but when the officer removed his handcuffs for him to do so he ran into the Yarrow Dam area.
He was recaptured and re-arrested the following day.
After hearing the prosecution's submissions, the magistrate granted Mohammed his release on $100,000 bail.
Mohammed was also charged with unlawfully and maliciously wounding his common-law wife, Shatiah Williams, on September 24, at Georgetown.
He pleaded not guilty to this offence.
When asked if she wanted to proceed with the charge against Mohammed, the woman said no. The matter was then dismissed.
Mohammed will make his next court appearance on October 17 as it relates to the escaping lawful custody charge.
Around the Web