After intervening in a fight between his parents, an Annandale youth was fatally stabbed, allegedly by his father, on Wednesday night.
Mahesh Chand, 24, a porter of 81 Narine Street, Annandale, East Coast Demerara was attempting to defuse the argument but instead reportedly became the target of the man, identified as Amernauth Chand, who was said to have been hounding his wife for money to buy drugs
Amernauth Chand, who fled after the fatal encounter, has since been arrested.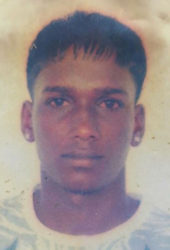 In a statement on the killing, police said the suspect had asked to borrow money from his wife, who refused his request. As a result, a heated argument developed and Mahesh intervened.
According to the police, the suspect armed himself with a cutlass and inflicted a wound to the upper chest of the youth, who was subsequently taken to the Georgetown Public Hospital where he was pronounced dead on arrival.
The youth's grieving mother Tajeranie Chowtie, 49, said the fatal altercation occurred around 10.30 pm. Mahesh, the eldest of her five children, was awakened by the quarrel between her and Amernauth.
She stated that her husband was asking for $400 change that had been left on a table. Chowtie said she could not find the money and that resulted in the man confronting her. She said she later learned that Amernauth had taken the money and hidden it in his pocket but nonetheless kept harassing her for the change that she could not find. Chowtie added that the quarrel woke her son and he handed her $200 to give to his father to prevent him from further harassing her. "He wake up and seh tek this $200 and give he," she recounted.
Seeing them in conversation angered Amernauth, Chowtie related, while adding that the man accused his son of always siding with his mother. As a result, she said, the two got into an argument and the father rushed to the kitchen and retrieved a cutlass with a slim, pointed blade and charged at his son.
Chowtie alleged that the man inflicted a stab to the abdomen of Mahesh, who ran into his parents' bedroom. She said the man followed him and allegedly stabbed him once more, this time in the region of his heart. "Mahesh fall hard on the bed after he get the stab," his sister, Sangeeta Chand, said.
Chowtie added that she heard her son groaning but could not have helped him since her husband was patrolling "up and down the yard" and she had run downstairs and hid herself between the bushes as she was afraid he would have injured her. "I hear he callin fuh me but I frighten so me na come out… meh daughter she call me and tell meh he gone, that I could come out but I frighten still to come out," she said.
Chowtie added that when she came out of hiding, she raised an alarm but neighbours did not respond immediately, since it was usual for the couple to argue. "Me na go to face meh son, meh holla and holla after dem tell meh he done deh bad and he done dead…," she said.
After neighbours became aware of the situation, the police were summoned and the injured youth was taken to the hospital almost an hour after. However, family members complained that when they contacted the Vigilance Police Station, they did not get through and they then had to make contact with Cove and John officers, who responded.
Abuse
Chowtie said she and Amernauth have been living together for 26 years and during that time she has suffered constant abuse at his hands. She noted that she made numerous attempts to end the relationship but her husband would always ask for another chance and she would give in.
According to her, when their five children were very young, they were also abused by the man. However, since three of her sons became adults, they would stand up to their father. "He used to beat me a lot but since de bai them grow… this man does talk steady they picking up for me and like he get something against Mahesh because he a pick up fa me steady," she lamented.
Chowtie also stated that because of Amernauth's aggressive behaviour, she would often plead with her sons to refrain from responding to him out of fear he would retaliate. She said on numerous occasions he would make threats to end her life.
She noted that almost every night her husband would misbehave. On one occasion, she recalled, he chopped her to her head. But she said nothing came of it since the police did not accept the bloody medical certificate she presented and when she returned for a clean copy the doctor who had looked after was not at the hospital. "I deh want he go jail bad because he does behave bad," she said.
The woman mentioned that on one occasion Amernauth had moved out and left her to look after their children. While she thought she would have gotten some peace, the man would visit and misbehave whenever he did not have money or food.
Chowtie said the man did not want to work and whenever she told him they did not have money, it would lead to her being abused. Mahesh and her 16-year-old daughter, she noted, would work and give her money.
Relatives have described Amernauth as a "bully," while noting that he would make threats if he did not get his way.
A neighbour told Stabroek News that whenever Amernauth is sober, he is a pleasant person. Chowtie mentioned that he was already using drugs when she met him. "He does smoke weed and the other thing," she said.
Mahesh, who was said to have been a constant source of support to his mother, was described as a peaceful individual.
Around the Web