Almost 1,000 cane harvesters attached to GuySuCo's Rose Hall estate are on strike for the removal of the estate manager over what they say is his refusal to meet with them on the institution of daily quotas.
All of the harvesting gangs, which account for a total of 979 workers, are refusing to work until the matter is settled and several of them staged a protest outside of the factory's compound, located at Rose Hall, East Canje, to press for his removal yesterday.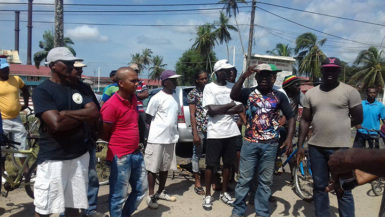 Stabroek News attempted to meet with the estate manager but was told that he was not in office. Calls to the manager also went unanswered.
According to the frustrated workers, a number of beds of cane is normally allotted every morning and they are usually paid for however much they complete at the end of the day. However, they said that they were informed by the manager that they will only be paid if they complete cutting all the beds stipulated for them each day. "Normally, right, if them give we five bed and we cut three, that is what we getting paid for. Now them saying that we got to cut all out before we get pay, that is rubbish," said one of the harvesters, who has been attached to GuySuCo since 1973.
"The estate manager refuse to resolve the matter; he said he will not be seeing the reps or the supervisor until we call off the strike," Sohanauth Rabindranauth, 59, said.
One gang representative, Errol Munroe, said the harvesters are not accepting the new system and will continue to strike. "He is saying he is not going to entertain us until the strike call off but what we are saying, he coulda call us and tell us let the workers go to work and let's talk," he noted. "But he is not willing to talk to us, he just sit in his chair and do whatever he got to do," he added. "This matter wouldn't a had to reach so far if he did agree to talk with us," he added,
"If he was a smart manager, we could a make the day pay, but he is a sluggish manager waiting for things happen. We as reps always willing to talk with we managers them but he doesn't want to talk," Munroe said, while noting that it is due to the manager's hesitation to meet with the harvesters and come up with a solution that they were left with no choice but to call for his removal. "This estate falling—we know it—but we need managers that willing to work along with we, so we can build it up again," another harvester said.
Workers called for "proper communication between the workers and the managers" for problems to be solved at the estate. They said they understand the managers are working on cutting costs but questioned why workers were feeling the brunt of it. "Them managers living in compound, getting free current and everything. Why them ain't cut cost there?" one aggrieved worker asked.
Around the Web